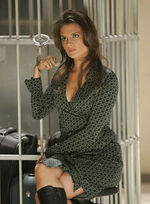 For information dealing with this year in the real world, see 2001 productions.
October 13: Date of one of Mark Hauser's employment contracts.
October 17: Collette Stenger is wanted in Dushanbe, Tajikistan for computer hacking and the transport of illegal documents. ("Day 5: 8:00pm-9:00pm")
Lee Jong, a scientist with China's nuclear weapons program, is convicted of falsifying research data and fired. ("Day 4: 2:00am-3:00am")
The CTU mission Operation Pinstripe is carried out. Richard Walsh, Robert Ellis, and Curtis Manning participate; Manning serves with distinction, earning a promotion to field ops. (Findings at CTU, Vanishing Point)
The Serbian National Liberation Front, in which Victor Drazen serves, is banned in Kosovo. (Findings at CTU)
The San Diego Commuter Bank robbery takes place. Ira Gaines is the suspected perpetrator. (Findings at CTU)
Jacques Chabon, Chief Investment Banker at Une Banque de Marseilles, is assassinated. Again, Ira Gaines is a prime suspect.(Findings at CTU)
Kevin Newton serves as Assistant Judge Advocate General for the Captivity Management Program in Albania. (Findings at CTU)
Vladimir Bierko becomes primary shareholder in Dysex Weapons Systems. ("Day 5: 5:00pm-6:00pm")
Ayman al-Libbi is forced to leave Iraq for doing business with Iran. (Cat's Claw)
Community content is available under
CC-BY-SA
unless otherwise noted.