24 JAPAN is a Japanese television series based on the American series of the same name. The show premiered in October 9, 2020.
Series overview
[
]
Season 1 (2020)
[
]
Main article: Season 1
Season 1 of 24 is a close adaptation of the first season of the original 24, following Genba Shido as he works to stop an assassination attempt on Urara Asakura, a candidate to become Japan's first female Prime Minister.
Cast
[
]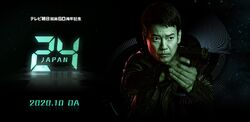 Starring
[
]
Guest starring
[
]
Aki Asakura

as

Sumire Akechi

, a cryptographic analyst and single mother
Erika Toda as

Eiko Tanaka

, a member of CTU 1st section A group
Yuma Ishigaki as

Tohru Mikami

, a field agent of CTU 3rd section

Yuki Imai

as

Yuta Asakura

, the son of Urara and Yohei

Maria Mori

as

Hina Asakura

, the daughter of Urara and Yohei

Kumi Mizuno

as

Shigeko Isomura

, the mother of Yohei

Yoshihisa Amano

as

Tadashi Kindaichi

, head of Urara's Security Polices

Masayuki Deai

as

Yukiya Soma

, a member of Urara's Security Polices

Haruka Uchimura

as

Noboru Akiyama

, Urara's secretary

Atsuko Sakurai

as

Madoka Yamashiro

, a news reporter who has connection with the Asakura family
Miki Yanagi as

Suzu Hakozaki

, a free spirited girl and a friend of Miyu

Yu Kamio

as

Yogo Hakozaki

, the father of Suzu

Atsuhiro Inukai

as

Go Samejima

, a beautiful but selfish man and a friend of Suzu

Shuhei Uesugi

as

Kenya Hasebe

, a friend of Suzu
Nana Katase as Nanami Hikawa, a mysterious beautiful woman
Denden as

Jyoshu

, an information broker who has inner connection with Urara

Kazuya Takahashi

as

Tamizo Kanbayashi

, a man comes from the underground world of organized crime

Yasuyuki Maekawa

as

Tsunehiko Minagawa

, an international photographer
Shumpei Terakawa as a news caster

Daichi Yamaguchi

as

Miyoshi Ichiki
Crew
[
]
Directors
Hideka Nagasaka

Kosuke Suzuki

Kento Kiuchi

Ken Higurashi

Tohru Otsuka
External links
[
]