24878 Alvert Street was the address of the building in Chatsworth, Los Angeles, where Habib Marwan and his group planned their terrorist attacks which were executed against the United States during Day 4.
Day 4
[
]
Dina Araz, one of Marwan's conspirators, was captured by CTU Los Angeles agents, and in return for her son's freedom, she told Jack Bauer and Tony Almeida that the building was the location where everyone involved in the terrorist attacks picked up their final assignments. She said that the men behind the train wreck, the kidnapping, and the stolen override device did all their planning in the building.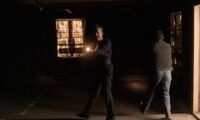 When Jack and Tony entered the building, they found it deserted. Jack noticed a power cord that disappeared beneath a floorboard. He and Tony pried up several loose floorboards and found a hidden door leading to a basement. In the basement, they discovered schematics of the nuclear power plants, passenger manifests from the train that was bombed and surveillance photos of Secretary Heller and Audrey. Jack spotted himself in one of the photos on the wall.
Sarah Gavin, a systems analyst at CTU traced the ownership of the building. She learned that the building was owned by a company that was owned by a company that was owned by an LLC called Galaxy Financial Services. She contacted Jack and told him that she recognized the LLC because the name had come up during a security clearance she had done for Paul Raines, Audrey's husband, earlier in the day.
When questioned about his connection to the building and the terrorist attacks, Paul denied involvement. He learned from his computer files that Galaxy Financial Services was taken over by someone named Harris Barnes.
Background information and notes
[
]
In a deleted scene from the episode, this building is featured and the details about its ownership are different. Instead of being owned by a series of companies beneath Galaxy Financial Services, it was owned by a landlord named Steven Wiseman. Wiseman was questioned in the scene, and knew nothing about his occupants because lawyers made the rental transaction.
Other companies that owned this address were named after schoolmates of Matt Michnovetz such as the Mailloux brothers, or "Agawam Financial Company" (his old school), or Star Wars references (Sith-Fett Enterprises), or flowers (the Clematis Company and the Dahlia Company).
Appearances
[
]
Season 4
Prequel

"7:00am-8:00am"

"8:00am-9:00am"

"9:00am-10:00am"

"10:00am-11:00am"

"11:00am-12:00pm"

"12:00pm-1:00pm"

"1:00pm-2:00pm"

"2:00pm-3:00pm"

"3:00pm-4:00pm"

"4:00pm-5:00pm"

"5:00pm-6:00pm"

"6:00pm-7:00pm"

"7:00pm-8:00pm"

"8:00pm-9:00pm"

"9:00pm-10:00pm"

"10:00pm-11:00pm"

"11:00pm-12:00am"

"12:00am-1:00am"

"1:00am-2:00am"

"2:00am-3:00am"

"3:00am-4:00am"

"4:00am-5:00am"

"5:00am-6:00am"

"6:00am-7:00am"