24: Complete Season One Collection
Release date(s):
September 14, 2002
Discs:
6
Studio:
Fox
Aspect ratio:
1.78:1
Region:
4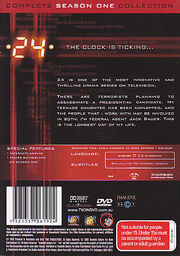 24: Complete Season One Collection is the Season 1 DVD set for Region 4. This slimline set was released in late 2006, as there were three other releases. The first was in September 2002 in a fold-out box set. Then in 2003 a three case box set was released, with each case containing two discs. In 2004, two three-disc half season sets were released. The back of the cover reads as follows:
There are terrorists planning to assassinate a presidential candidate. My teenage daughter has been kidnapped, and the people that I work with may be involved in both. I'm federal agent Jack Bauer. This is the longest day of my life.
The clock is ticking...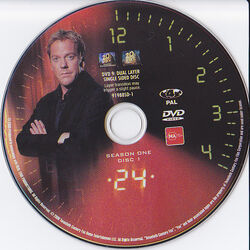 Character on disc: Jack Bauer
Character on disc: Kim Bauer
Character on disc: Ira Gaines
Character on disc: Teri Bauer
Character on disc: Nina Myers
Character on disc: Senator David Palmer
Special features
Edit
24 home video releases
VHS · DVD · Blu-ray Disc
Season 1
VHS
Region: 1, 2, 4
Season 2
VHS
Region: 1, 2, 4
Season 3
Region: 1, 2, 4
Season 4
Region: 1, 2, 4
Season 5
Region: 1, 2, 4
Season 6
Region: 1, 2, 4
Redemption
Region: 1, 2, 4
Season 7
Region: 1, 2, 4
BD Region: A, B
Season 8
Region: 1, 2
BD Region: A, B
Live Another Day
Region: 1
BD Region: A
Others