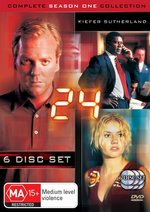 24: Complete Season One Collection is the Season 1 DVD set for Region 4. This set was released in September of 2003. The back of the cover reads as follows:
There are terrorists planning to assassinate a presidential candidate. My teenage daughter has been kidnapped, and the people that I work with may be involved in both. I'm federal agent Jack Bauer. This is the longest day of my life.
The clock is ticking...
Disc 1
Disc 2
Disc 3
Disc 4
Disc 5
Disc 6
Special Features
In this version of the end of the season, instead of Teri dying, she is found by Jack tied up, & alive. Jack unties her, and Kim, Teri, and Jack are seen walking down a CTU corridor together in each other's arms.
11:59:57, 11:59:18, 11:59:59, 12:00:00...

NOTE: The clock is shown with the usual ticking sound, instead of the silent clock Teri received for her death in the real version.
Kiefer Sutherland talks about 24
Community content is available under
CC-BY-SA
unless otherwise noted.