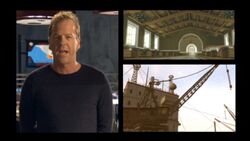 24: The Game - Behind the Scenes is a special feature found on the Season Four DVD.
Behind the Scenes
[
]
Kiefer Sutherland talks about 24: The Game.
| | | |
| --- | --- | --- |
| " | Have you ever wanted to know more about the world of 24? Did you ever wonder how President Palmer recovered from the attempt on his life? Who was really behind the assassination attempt and why did it fail? Who ran the country while Palmer was fighting for his life? Have you ever been curious why Kim Bauer started working at CTU, and why she and Chase first got together? Ever wondered how Chloe O'Brian first came into contact with the Los Angeles CTU? How did Jack and Chase Edmunds first start working together? Ever wondered what it would be like to live 24 hours in the life of Jack Bauer? | " |
He then goes on to talk about 24: The Game, explaining its timeline and features of the game whilst images from it are shown. He also talks about how the crew worked closely with the game production company to keep its style close to that of the show, and how all the cast have been scanned closely so the characters closely resemble the actors, as well as having their voices recorded. Footage of Kiefer and Elisha Cuthbert recording scenes for the Game is shown. More clips from the Game demonstrate all the features it has to offer, as Kiefer Sutherland brings the video to a conclusion.
24 home video releases
VHS · DVD · Blu-ray Disc
Season 1
VHS
Region: 1, 2, 4
Season 2
VHS
Region: 1, 2, 4
Season 3
Region: 1, 2, 4
Season 4
Region: 1, 2, 4
Season 5
Region: 1, 2, 4
Season 6
Region: 1, 2, 4
Redemption
Region: 1, 2, 4
Season 7
Region: 1, 2, 4
BD Region: A, B
Season 8
Region: 1, 2
BD Region: A, B
Live Another Day
Region: 1
BD Region: A
Others