24: The Official Magazine Issue 1 was the first issue published by Titan Magazines of the 24 Magazine. It features interviews with Kiefer Sutherland and Mary Lynn Rajskub, along with other articles.
Interviews
Edit
Kiefer Sutherland
Edit
The first interview of the magazine is with Kiefer Sutherland, with some great shots of Jack from the past 5 seasons. Sutherland talks about his favourite moments, and the lessons he has learnt whilst filming 24. He mentions how surprised all the team were when they reached 100 episodes, and what responsibilities he now has as a co-executive producer.
Mary Lynn Rajskub
Edit
Mary Lynn Rajskub, who plays Chloe O'Brian on the show is interviewed next, and talks to Tara DiLullo about her introduction on the show and the comical way she was portrayed, Chloe's relationship with Jack, Chloe's field action during Day 4 and the romantic side to Chloe as seen during Day 5.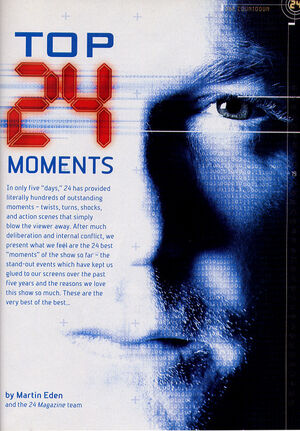 Features
Edit
Top 24 Moments
Edit
In only five "days", 24 has provided literally hundreds of outstanding moments. After much deliberation and internal conflict, the magazine presents what they feel are the 24 best "moments" of the show so far. Some of the moments include Edgar Stiles saving the world during Day 4, David Palmer defending his Presidency during Day 2, Chase Edmunds loosing an arm in the finale of Day 3, the traitorous reveal of Nina Myers and the most shocking moment of 24 history: the death of Teri Bauer.
Time Management
Edit
24 executive producers Joel Surnow, Robert Cochran, Howard Gordon and Evan Katz take time out of their schedules to discuss the past, present and future of the show. In the article, the men discuss what will be the key themes in Day 5, Jack's emotional position each season and the difficulties that arise with using multiple directors.
24: Access all Areas
Edit
An article featuring information on how the show is put together, featuring information on the show as seen midway through the production of Day 5; January 9-11th 2006.
Dangerous Game
Edit
An insight into 24: The Game, featuring an in-depth look at how the game was put together. The article features information on the cast, putting CTU on the PS2 and the types of mission available in the game. Also featured in the article is interviews with James Shepherd (executive producer at Sony Computer Entertainment Europe) and Duppy Demetrius (the writer for the game).
24 Intel: The latest 24 news
CTU Files: Kim Bauer
24/Seven: Trivia and tidbits
Community content is available under
CC-BY-SA
unless otherwise noted.