24: The Official Magazine Issue 6 was the sixth issue published by Titan Magazines of the 24 Magazine. It features interviews with Kiefer Sutherland, Eric Balfour and others, along with other articles.
Interviews
Edit
Kiefer Sutherland
Edit
The actor talks about what has kept him going for six years, the cast and crew he was worked with, the audiences response to the show and things that didn't work for him in the fifth season. Accompanying the article is a wide selection of images showing Jack's journey throughout Season 5.
Jayne Atkinson
Edit
Jayne Atkinson, a.k.a Karen Hayes talks to the magazine about her and Bill's chemistry on the show, what her role is in Season 6 and her biggest challenges.
Brad Turner
Edit
The Supervising Producer tells tales of the sixth season. He explains his role on the show, how the sixth season is very different to any of the others and why there are so many deaths on the show.
[24 Questions with...] Eric Balfour
Edit
The actor behind Milo Pressman lets us in on what he's been doing recently, his return to 24, what other character on 24 he would like to be, and loads more!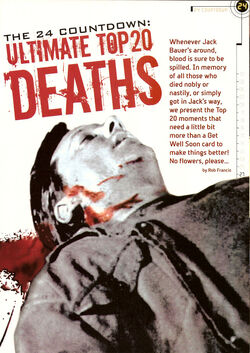 Features
Edit
Ultimate Top 20 Deaths
Edit
A comprehensive countdown of the worst deaths ever to occur on 24: from Habib Marwan's fall from a building and Lynn McGill's heroic death from the Sentox nerve gas, to David Palmer's dramatic demise in the Season 5 premiere and Edgar Stiles' tear-jerking death at CTU.
Book of Revelations
Edit
A little insight into whats going to be in the latest companion book; 24: The Official Companion: Seasons 3 & 4. The book will give us a walkthrough of the two seasons, with trivia, guides and images to keep us going along the way!
What Happened Next?
Edit
An exclusive look behind the scenes of the Season 6 Prequel guided by some of the cast of 24. It has lots of pictures and information on the prequel.
24 Intel: The latest 24 news
CTU Files: Audrey Raines
24/Seven: Trivia and tidbits
CTU Mailroom: Fans' queries and questions
Getting to know CTU-YOU: Lloyd Moriarity; Key Grip
Community content is available under
CC-BY-SA
unless otherwise noted.