24: The Official Magazine Issue 7 was the seventh issue published by Titan Magazines of the 24 Magazine. It features interviews with Peter MacNicol, Alexander Siddig, Mia Kirshner and others, along with other articles.
This interview with Peter MacNicol, the actor behind Season 6 character Tom Lennox lets us in on what Tom's been up to this season. He chats to 24 Magazine about his character's political viewpoints, the care the producers take with 24, and his character conflicts with fellow White House Staffer, Karen Hayes.
Hamri Al-Assad, a.k.a. Alexander Siddig gives another Season 6 interview; we learn about what was going on in the actor's mind whilst playing the character. He talks about his character's relationship with Jack Bauer and his storyline throughout the first half of the season.
Mia Kirshner gives an interview on her 24 character, Mandy. She talks to the magazine about some of the scenes she has had to shoot, and her other TV roles.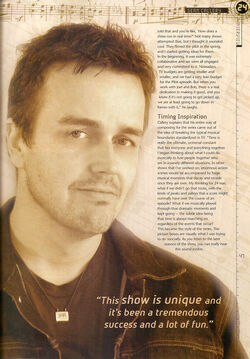 Think you're the next Jack or Chloe? Take this quiz, with three separate difficulties, to see if you are good enough to get into CTU: test your 24 knowledge!
Sean Callery gives a musical interview explaining why he chose certain songs for certain characters. He explains to the magazine the process of creating music for the show, the timespan he has for creating, how he has different themes for different character and groups of characters and the troubles he has encountered in the past.
Jack Bauer: Man of Action Figures
[
edit
|
edit source
]
This article consists of some photos on the all-new Jack Bauer Action Figures, as well as information on their manufacturers, their release and what characters are going to be coming out. Features are the models from McFarlane Toys, Diamond Select Toys (both the action figures and the Minimates) and Medicom Toys.
24 Intel: The latest 24 news
CTU Files: Jack Bauer
24/Seven: Trivia and tidbits
CTU Mailroom: Fans' queries and questions
Getting to know CTU-YOU: Nicole Burke; Assistant Director
Community content is available under
CC-BY-SA
unless otherwise noted.