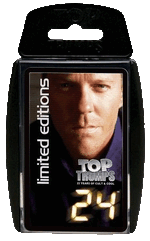 24 Top Trumps were a limited edition version of the classic card game Top Trumps, based on the characters of 24.
The cards were made within the timespan of the first four series, and therefore do not include characters who only appear thereafter. The categories for play are:
Seasons (out of 4)
Power (out of 50)
Loyalty to Cause (out of 10)
Cunning (out of 100)
24 Factor (out of 24)
Super Top Trumps
[
]
Whilst the ordinary set is a limited edition one, a Super Top Trumps card could be available to fans. It was one extra card that was only available with the purchase of a special stickered Season 4 DVD.
The super top trump card was Behrooz Araz.
Card list
[
]
Items in red denote mistakes which are explained below.
1. Erin Driscoll's card incorrectly lists her as being in two seasons.
2. Michelle Dessler's card incorrectly lists her as being in all four of the first four seasons.
3. Wayne Palmer's card incorrectly lists him as being in two of the first four seasons.
Background information and notes
[
]
Audrey Raines is listed as "Audrey Raines Heller".
Syed Ali is incorrectly spelt Sayed Ali.