Aaron Mitchell (born February 17, 1963; age 57) played a waiter in 24: Legacy.
Mitchell began his professional acting career in 2013, appearing as a detective in the TV series documentary Snapped: Killer Couples. After that, he appeared as an FBI agent in NCIS: New Orleans. He has appeared in 12 episodes since. Mitchell has also appeared in the show Murderous Affairs and It Takes a Killer. He has also worked as a stand-in for Dean Norris in the TV show Claws.
Aside from acting, Mitchell has worked as a producer, writer, and cinematographer, among other things. In 2017, he wrote and produced two short films: Peanutz and Axle Gunn's The Crossroads.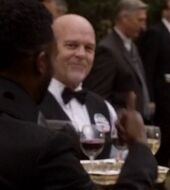 Mitchell played a waiter working at Senator John Donovan's house. He can be seen serving the guests when Secret Service agents take Nilaa Mizrani into custody. Mitchell had no lines and was not credited for his appearance.
Eat Brains Love (2018)
F5 Teraphobia (2018)
Ripple (2017)
Geostorm (2017)
LBJ (2016)
Television appearances
Your Honor (2019)
NCIS: New Orleans (2015-2019)
The Purge (2018)
It Takes a Killer (2016-2017)
Claws (2017)
Murderous Affairs (2016)
Community content is available under
CC-BY-SA
unless otherwise noted.