Albert "Al" Leong (born September 30, 1952; age 67) is an actor, stuntman, director, writer, and producer who portrayed Neil Nagi during Season 1 of 24.
Biography and career
Edit
Al Leong was born in St. Louis, Missouri, but grew up in Los Angeles. He began his acting career in the early 80's, appearing in shows like Knight Rider, Magnum, P.I., The Equalizer (with Keith Szarabajka), The A-Team (with Ray Wise), The Fall Guy (with Dennis Haysbert), and MacGyver.
Leong's big break came when producer Joel Silver called him up after filming John Carpenter's Big Trouble in Little China, and invited him to appear in both Lethal Weapon and Die Hard as a brutal henchman. After that, Leong became one of the most popular and sought stuntmen in the industry appearing in other hit action films like Black Rain (with Stephen Root), Death Warrant, Escape from L.A., and Rapid Fire (with Powers Boothe and Tzi Ma).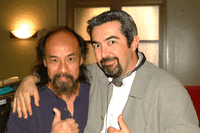 Through his career, he co-starred alongside Arnold Schwarzenegger, Kurt Russell, Brandon Lee, Mel Gibson, Dolph Lundgren, Bruce Willis, Chou-Yun Fat, David Carradine, Dwayne "The Rock" Johnson, Michael Madsen and David Hasselhoff. In 1998, he appeared with Doug Savant, Glenn Morshower, Nancy Cartwright, and Burt Bulos in the American version of Godzilla.
Leong is currently retired from the Hollywood film industry after suffering a stroke.
24 credits Edit
Selected filmography
Edit
Awesome Asian Bad Guys (2014)
Forbidden Warrior (2005)
The Scorpion King (2002)
The Ghost (2001)
The Replacement Killers (1998)
Lethal Weapon 4 (1998)
Escape from L.A. (1996)
Double Dragon (1994)
Beverly Hills Cop III (1993)
Last Action Hero (1993)
Joshua Tree (1993)
Rapid Fire (1992)
Dark Angel (A.K.A. I Come in Peace) (1990)
Death Warrant (1990)
Black Rain (1989)
Bill & Ted's Excellent Adventure (1989)
Action Jackson (1988)
Die Hard (1988)
Lethal Weapon (1987)
Showdown in Little Tokyo (1986)
Television appearances
Deadwood (2004)
That 70's Show (2000)
Kung Fu: The Legend Continues... (1994; Also served as stunt coordinator)
The A-Team (1983, 1985)
External links
Edit
Community content is available under
CC-BY-SA
unless otherwise noted.