Arnold Chon
Born:
Arnold Julian Chon
October 9, 1980
Alexandria, Virginia, USA
Role:
Zhou Yong's henchman
Arnold Julian Chon (born October 9, 1980; age 39) is a stunt performer who appeared as one of Zhou Yong's henchmen in Season 6.
Biography and career Edit
Chon is a notable martial artist who has provided stunts for many films and TV shows. He began his martial arts training at the age of 5 at the Jhoon Rhee Institute in his hometown of Virginia. Chon received his black belt at the age of 11. He competed at numerous tournaments in the competitive martial arts circuit and became a NASKA champion and two-time Junior Olympic gold medalist in Tae Kwon Do.
After that, Chon moved to Los Angeles and started working as a stunt performer, coordinator, and fight choreographer.
Role on 24 Edit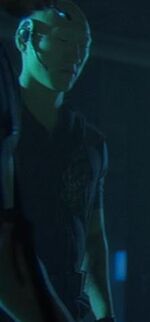 Chon worked as a stunt performer on 24 during Season 6. He appeared as one of Zhou Yong's henchmen during episodes "Day 6: 2:00am-3:00am" and "Day 6: 3:00am-4:00am". Chon's character infiltrated CTU via the sewer in Day 6: 2:00am-3:00am, and then in the next episode stood guard over Jack, hitting him with his gun at the start of the episode. Later, he was shot by Jack in the corridor.
24 credits Edit
Selected filmography Edit
Bad Times at the El Royale (2018)
Sultan (2016)
A Perfect Vacation (2015)
Escape Plan (2013)
The Long Ranger (2013)
G.I. Joe: Retaliation (2013)
Olympus Has Fallen (2013)
Universal Soldier: Day of Reckoning (2012)
Safe (2012)
Knight and Day (2010)
Transformers: Revenge of the Fallen (2009)
Black Dynamite (2009)
Indiana Jones and the Kingdom of the Crystal Skull (2008)
Pirates of the Caribbean: At World's End (2007)
Rush Hour 3 (2007)
Pirates of the Caribbean: Curse of the Black Pearl (2003)
Cradle 2 the Grave (2003)
We Were Soldiers (2002)
Windtalkers (2002)
Television appearances
Barry (2019)
Bosch (2018)
Fear the Walking Dead (2016-2017)
Agents of S.H.I.E.L.D. (2013)
Southland (2011)
Chuck (2007, 2010)
Sleeper Cell (2005)
Entourage (2005)
Alias (2004)
Charmed (2001-2002)
V.I.P. (2000-2001)
Angel (2001)
2001 ABC World Stunt Awards (2001)
Mortal Kombat: Conquest (1999)
External links Edit