Arnold Chon is a stunt performer who appeared as one of Zhou Yong's henchmen in Season 6. He infiltrated CTU via the sewer in Day 6: 2:00am-3:00am, and then in the next episode stood guard over Jack, hitting him with his gun at the start of the episode. Later, he was shot by Jack in the corridor.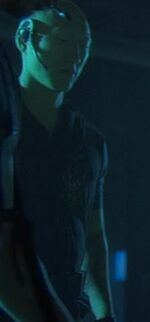 Chon is a notable martial artist who has provided stunts for many films and TV shows.
24 credits
Selected filmography
Escape Plan (2013)
The Long Ranger (2013)
G.I. Joe: Retaliation (2013)
Olympus Has Fallen (2013)
Universal Soldier: Day of Reckoning (2012)
Safe (2012)
Knight and Day (2010)
Transformers: Revenge of the Fallen (2009)
Black Dynamite (2009)
Indiana Jones and the Kingdom of the Crystal Skull (2008)
Pirates of the Caribbean: At World's End (2007)
Rush Hour 3 (2007)
Pirates of the Caribbean: Curse of the Black Pearl (2003)
Cradle 2 the Grave (2003)
We Were Soldiers (2002)
Windtalkers (2002)
Television appearances
Southland (2011)
Chuck (2007, 2010)
Sleeper Cell (2005)
Entourage (2005)
Alias (2004)
Charmed (2001-2002)
V.I.P. (2000-2001)
Angel (2001)
2001 ABC World Stunt Awards (2001)
Mortal Kombat: Conquest (1999)
External links
Community content is available under
CC-BY-SA
unless otherwise noted.