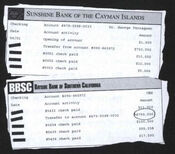 The Bayside Bank of Southern California, or BBSC, was a bank based in southern California.
Therapist George Ferragamo had a personal account at BBSC, which received a wire transfer of $750,000 from an account at the offshore Sunshine Bank of the Cayman Islands. Washington Gazette reporter Will Hertz later identified this second account as belonging to the Committee to Elect Hodges, deducing that Governor Mike Hodges paid Ferragamo to leak the Keith Palmer story to the press to ensure Hodges won against David Palmer in the presidential primary. (Findings at CTU)
Community content is available under
CC-BY-SA
unless otherwise noted.