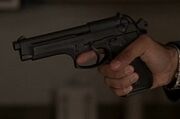 The Beretta 92 was a line of semi-automatic pistols manufactured by Beretta.
In the United States, the Beretta 92 was widely used by military and law enforcement groups. It was the standard sidearm for officers in the Los Angeles Police Department and the D.C. Metro Police. ("Day 1: 3:00am-4:00am", "Day 7: 4:00pm-5:00pm") It was also favored by field agents and security personnel at CTU Los Angeles and the FBI's Washington Field Office. ("Day 2: 4:00pm-5:00pm", "Day 7: 10:00am-11:00am") As part of their protection duties, agents of the United States Secret Service carried Beretta 92 pistols. ("Day 4: 7:00am-8:00am") In the military, members of the United States Marine Corps sometimes carried the Beretta 92 as their sidearm. ("Day 7: 6:00pm-7:00pm")
Variants of the Beretta 92 included the Beretta 92F. Captain Jessica Schneider used a Marine-issued Beretta 92F during a raid on the Los Angeles branch of Green Dragon Computers with Tony Almeida. (Operation Hell Gate)
The Beretta 92 is one of the most frequently featured handguns in 24. For the full list of appearances, see Handguns on 24.
External links
Edit
Community content is available under
CC-BY-SA
unless otherwise noted.