Berkin was a Secret Service agent that worked to protect David Palmer during his election campaign and presidency.
Day 1
[
]
Agent Berkin arrived at Palmer's hotel suite with Aaron Pierce, Jimmy Kelly and other Secret Service agents that were sent to add an extra layer of security to the Senator. Upon their arrival, they found Palmer was gone, so Berkin and Jimmy Kelly began talking to a member of Palmer's staff who ran through some items of Palmer's schedule. When Palmer was located at the Hotel Rosslyn, Berkin traveled there with other agents to bring him in.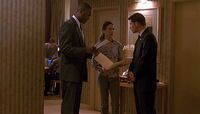 Berkin arrived back the hotel with Palmer shortly after 3am, and stood guard outside his room, showing in Aaron Pierce in order to brief Palmer. Later, when Palmer met with Maureen Kingsley in a third floor conference room, Berkin checked her ID while she was searched. At 5:40am, Berkin and Agent Kelly escorted Palmer to Mike Novick's room on the 12th floor. Later he stood guard outside the suite when Palmer entered to talk to his daughter Nicole.
Just after 7am Berkin was patrolling Palmer's balcony as the senator spoke to his wife and son. Shortly afterward, Berkin traveled with Palmer to the Santa Clarita Power Plant, where he opened the limousine door and escorted Palmer into the building. He and Agent Kelly stayed close the senator as he talked to the crowd, and after the attempted assassination, Berkin ran to help escort the senator from the building.
While David Palmer chastised his wife Sherry for trying to put another woman in his bed, Berkin knocked and entered the room to inform Palmer that Jack Bauer had just arrived at the hotel.
Day 2
[
]
Prior to Lynne Kresge taking a fall from fleeing Jesper Isberg, Berkin was seen guarding other corridors in the hallways. He was also seen standing outside where David Palmer was locked down after his temporary removal from office.
Day 3
[
]
Agent Berkin spent most of this day just standing directly outside David Palmer's office in Los Angeles. He would also sometimes be seen walking down the hallways either either Wayne Palmer or SS Agent Aaron Pierce.
Background information and notes
[
]
He has the most episodes for a character without their full name revealed.
Live appearances
[
]