Bhagwat was a CBI agent who was assigned to protect Aditya Singhania during Day 1.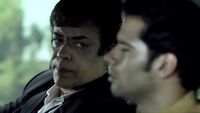 After the ATU discovered that assassins from the LTFE in Sri Lanka could be behind the attempted assassination of Singhania, the threat level was raised to 3 and Bhagwat went to Hotel Renaissance to get Aditya out of the city. He introduced himself and persuaded Aditya to leave with him. On the way to the airport, Bhagwat explained that the man arrested for the first assassination attempt, Jai Singh Rathod, led a mission to take out the LTFE chief Ravindran. Aditya requested that they stop at ATU on the way to the airport to find out more information. ("1:00pm-2:00pm")
While at ATU, Bhagwat entered the conference room to tell Aditya his plane was ready. Aditya said it would be easier for him to catch the assassins if he stayed in Mumbai. Despite Bhagwat's protests, Aditya resolved to stay for the rally, and Bhagwat informed Bharat of the development. ("2:00pm-3:00pm")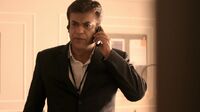 Mihir then got intelligence on the three potential assassins, and sent it to Bhagwat. He briefed Aditya's staff on the three suspects, which caused Pooja Bharadwaj to recognise Bala Ravindran as the man she was in a relationship with. Jai called Bhagwat and told him to beef up security for Aditya and his family. Jai and Nikita Rai then arrived at the hotel and greeted Bhagwat, preparing for a sting operation on Bala. When Bala arrived, Bhagwat informed them. ("3:00pm-4:00pm", "4:00pm-5:00pm")
After the sting operation went awry and Bala was stabbed, Bhagwat collected Aditya to take him to the rally. Aditya and Prithvi Singhania made speeches, and afterwards Bhagwat and Pradhan led them to their car and took them back to the hotel. ("5:00pm-6:00pm", "6:00pm-7:00pm")
Just after 9pm, Prithvi told Bhagwat he was leaving the hotel for a while. Bhagwat tried to stop him, but Vikrant Maurya said that Bhagwat took security too seriously. He then informed Aditya that the Newsreel interviewers had arrived, and that Prithvi had with Vikrant. Later, they discovered that Vikrant was in league with the LTFE. ("9:00pm-10:00pm")
Bhagwat told Aditya he thought they should arrest Vikrant, but Aditya wanted to wait. Mahinder Gill called Bhagwat and told him that Aditya was in danger from Jai. Aditya cornered Vikrant in a room downstairs, and Bhagwat stopped him from leaving. When Aditya confronted Vikrant, Vikrant started to strangle Aditya, and Bhagwat tried to intervene. However, Divya Singhania then shot Vikrant and Bhagwat rushed him to hospital. As he left, Prithvi gave Bhagwat a letter for Aditya. ("10:00pm-11:00pm")
After a bomb went off in Aditya's suite, Bhagwat tried to call Pradhan but could not get through. Shortly before 11pm, Bhagwat gave Prithvi's letter of resignation to Aditya. A short while later, Bhagwat took Prithvi to see Aditya and discuss the resignation. ("10:00pm-11:00pm", "11:00pm-12:00am")
Background information and notes
Edit
Live appearances
Edit
Community content is available under
CC-BY-SA
unless otherwise noted.