Brad Turner
Born:
June 22
Bayfield, Ontario, Canada
Role:
Director, Producer
Brad Turner (born June 22) was a recurring director and executive producer that worked on 24 from Season 3 to Season 8.
Brad Turner was born in Bayfield, Ontario, Canada, and graduated with honors from the Television Arts Program at H.B. Beal Secondary School in London, Ontario.
In 2004, Turner won the Best Director Gemini Award for his work in CBC TV's acclaimed 6 hour Mini Series Human Cargo. He also won two Director's Guild of Canada's Awards for the same production. Early in 2005, Human Cargo (with Hakeem Kae-Kazim) was honored with the prestigious Peabody Award in New York City. In the past years, Brad's directing work had been honored nine times with Gemini Award nominations. He has also won a Manitoba Film Award for Best Director in a Television Movie and been nominated for an American Cable Ace Award for Best Director.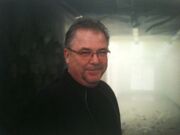 He worked with Robert Cochran and Michael Loceff on La Femme Nikita, and with Robert Cochran and Joel Surnow on The Commish. Turner also directed one crucial episode of Ronald D. Moore's Battlestar Galactica, "Flesh and Bone," featuring series regulars' Katee Sackhoff and Callum Keith Rennie.
Turner has directed numerous episodes of other hit shows such as Prison Break, Stargate: Atlantis, Stargate: SG-1, The Outer Limits, Andromeda, and the Hawaii Five-0 reboot (starring Daniel Dae Kim and Jean Smart).
Community content is available under
CC-BY-SA
unless otherwise noted.