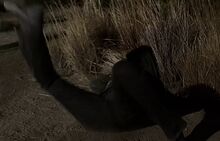 Bridgit was the lover and accomplice of Mandy prior to and during Day 1.
Day 1
[
]
After Flight 221 exploded, Mandy buried Martin Belkin's stolen identification in the Mojave Desert. She was picked up in a Jeep and taken to meet Ira Gaines.
Bridgit arrived in the desert on motorcycle and retrieved the hidden ID. She met Gaines and Mandy but insisted on getting $2 million for the ID instead of the $1 million she and Mandy had been promised. After threatening to kill Bridgit, Gaines finally complied and agreed to give her and Mandy the extra million.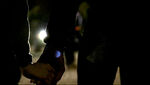 Bridgit, Gaines, and Mandy drove back to the desert. Bridgit gave Gaines the ID, but Jonathan Matijevich, a sniper who had undergone surgery to look like Belkin, shot and killed Bridgit in front of Mandy.

Background information and notes
[
]
Live appearances
[
]
Season 1
| | | | | | |
| --- | --- | --- | --- | --- | --- |
| "12:00am-1:00am" | "1:00am-2:00am" | "2:00am-3:00am" | "3:00am-4:00am" | "4:00am-5:00am" | "5:00am-6:00am" |
| "6:00am-7:00am" | "7:00am-8:00am" | "8:00am-9:00am" | "9:00am-10:00am" | "10:00am-11:00am" | "11:00am-12:00pm" |
| "12:00pm-1:00pm" | "1:00pm-2:00pm" | "2:00pm-3:00pm" | "3:00pm-4:00pm" | "4:00pm-5:00pm" | "5:00pm-6:00pm" |
| "6:00pm-7:00pm" | "7:00pm-8:00pm" | "8:00pm-9:00pm" | "9:00pm-10:00pm" | "10:00pm-11:00pm" | "11:00pm-12:00am" |