Cherry Jones (born November 21, 1956; age 63) played Allison Taylor in 24: Redemption, Season 7, and Season 8 of 24.
Biography and career
Cherry Jones was born in Paris, Tennessee to a high school teacher mother and a flower shop owner father. She graduated of the Carnegie Mellon School of Drama in 1978, and worked at City Theatre while studying.
Most of Jones' work has been in theater. She won Broadway's 1995 Tony Award as Best Actress (Play) for a revival of The Heiress, and again in 2004 for John Patrick Shanley's Doubt (her role was later played by Meryl Streep in the movie adaptation). She is openly lesbian and is a prominent advocate for gay rights. Her early forays into film included The Perfect Storm (with Bob Gunton) and Signs. M. Night Shyamalan, director of the latter, liked her so much in the support role that he cast her for his following project The Village.
In 2012, Jones became part of the main cast of Awake, produced by Howard Gordon and Evan Katz.
Role on 24
In 2009, Jones won the Emmy Award for Outstanding Supporting Actress in a Drama Series in 2009 for her role in Season 7. She, along with Kiefer Sutherland and Sarah Clarke, are the only actors who have received awards for their work on 24.
24 credits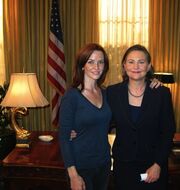 Selected filmography
Whiskey Tango Foxtrot (2016)
Knight of Cups (2015)
The Beaver (2011)
Amelia (2009)
Swimmers (2005)
Ocean's Twelve (2004)
The Village (2004)
Signs (2002)
The Perfect Storm (2000)
Erin Brockovich (2000)
The Horse Whisperer (1998)
Television appearances
Transparent (2015-2016)
Awake (2012)
24 (2009-2010)
The West Wing (2004)
External links
Community content is available under
CC-BY-SA
unless otherwise noted.