Clayton Barber co-starred as a Russian separatist during Season 5 and one of Dr. Levinson's orderlies during Season 7 of 24. He is a prolific stunt actor and an expert Tae Kwon Do competitor and instructor.
Clayton Barber is from Dallas, Texas. He started practicing Tae Kwon Do since he was 10 years old, achieving a black belt. Barber also practiced gymnastics and dance. Barber graduated from Lakeview Centennial High School in Garland, Texas in 1986.
Despite losing his first tournaments, Barber continued practicing and improving until he became a member of the US Tae Kwon Do team. He won numerous tournaments during the 1980s and 1990s, winning silver and gold medals. Barber was also named Competitor of the Year in 1995. He also coached the US National Team in Tae Kwon Do.
Barber started his stunt career in the 1990s. He has worked in films like Batman & Robin, Blade II, The Bourne Legacy, Black Panther, and The Fate of the Furious, among many others.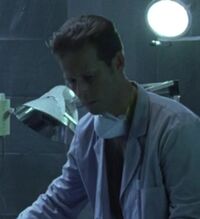 Bierko's terrorist
Levinson's orderly
Black Panther (2018)
The Fate of the Furious (2017)
Wild Card (2015)
Ride Along (2014)
The Bourne Legacy (2012)
Beyond the Ring (2008)
xXx: State of the Union (2005)
Charlie's Angels: Full Throttle (2003)
Hulk (2003)
Blade II (2002)
Zoolander (2001)
American Pie 2 (2001)
Blade (1998)
Batman & Robin (1997)
Television appearances
Iron Fist (2018)
Dallas (2012-2014)
Prison Break (2007)
Alias (2002, 2005-2006)
CSI: Miami (2003)
V.I.P. (1999-2002)
Buffy the Vampire Slayer (1997-2001)
Community content is available under
CC-BY-SA
unless otherwise noted.