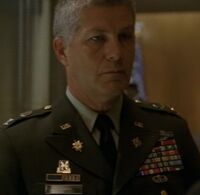 Colonel refers to a high-ranking military officer in the armed services of many countries.
Day 2
[
]
Colonel Lamb arrested NSA chief Roger Stanton on behalf of President David Palmer for treason.
Redemption
[
]
Iké Dubaku attained the rank of colonel in the People's Freedom Army, led by Benjamin Juma, before the events of Redemption. Colonel Dubaku, Juma's loyal right-hand-man, was the driving force in seizing the capital of Sangala, using weapons and training procured from Jonas Hodges.
Day 9
[
]
Colonel Shaw was among the high-ranking military officials who took charge of the crisis of the stolen defense override device that was in possession by Adrian Cross and later Cheng Zhi.