D. C. Douglas (born February 2, 1966; age 55) played Blake Simon during Season 6 of 24.
Biography and career
[
]
D.C. Douglas was born in Berkeley, California, but lived in the San Francisco Bay Area. His father was a salesman and his mother was a writer. Douglas' family includes several circus, vaudeville, and burlesque performers, so he was interested in theater from an early age.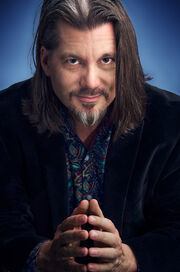 After high school, Douglas moved to Los Angeles to study under Estelle Harman, former head of talent for Universal. During the 80's and 90's he performed with various Los Angeles theater companies. His first TV role was in 1988, in the TV film Al TV starring "Weird" Al Yankovic.
Through his career, Douglas has appeared in shows like Boston Common, Young Hercules, ER (with Paul McCrane), Star Trek: Enterprise (with John Billingsley and Connor Trinneer), NYPD Blue, Castle (with Stana Katic and Penny Johnson Jerald), and NCIS (with Pauley Perrette).
Among his other acting roles, Douglas has been a voice actor for a relatively large number of video games. He also appeared in the 2005 short film 5.6 Seconds with fellow 24 actor Kevin Scott Allen.
24 credits

[

]
Selected filmography
[
]
Smartass (2017)
KILD TV (2016)
Sharknado 2: The Second One (2014)
50/50 (2011)
Titanic II (2010)
Sister's Keeper (2007)
The Commission (2003)
Under Siege 2: Dark Territory (1995)
Future Force (1989)
Television appearances
The Encounter (2020)
Wizard School Dropout (2019)
Regular Show (2016-2017)
Z Nation (2015-2016)
NCIS (2014)
Castle (2012)
Las Vegas (2005)
House of Clues (2004)
NYPD Blue (2004)
JAG (2003)
Star Trek: Enterprise (2003)
ER (2002)
The Young and the Restless (1996-1997)
Boston Common (1996-1997)
External links
[
]