Dave Evans
Affiliation:
Delta Force
Death cause:
Land mine explosion
Status:
Deceased
Appears in:
Nightfall #1
Dave Evans was a member of Jack Bauer's Delta Force strike team during Operation Nightfall, and was the first casualty during this mission.
Nightfall
[
]
Around 6:30pm, Evans parachuted to the ground with the rest of Jack Bauer's Delta Force Srike Team. He parachuted onto an unseen land mine and was killed instantly.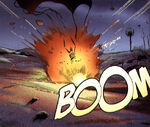 Despite losing one member, Evans' death also provided further problems for the Strike Team. On his person was a Serbian Military Band Radio, which would have helped the team avoid the presence of Serbian soldiers. Jack notified Robert Ellis of the incident, and Ellis decided to increase the current satellite monitoring to compensate for the loss of Evans.
Ellis also erased Evans' military profile and modified it to that of a personal trainer from Baltimore, Maryland. The post-mortem disguise did not fool Andre and Victor Drazen however, with the logic that "no ordinary American is going to accidentally parachute into one of [their] minefields."
Live appearances
[
]
 

Expanded universe
Novels

Findings at CTU · Operation Hell Gate · Veto Power · Trojan Horse · Cat's Claw · Vanishing Point · Chaos Theory · Storm Force · Collateral Damage · Trinity · Head Shot · Death Angel · Deadline · Rogue · Trial by Fire

Comics
Games

Countdown · The Game · The Mobile Game · Agent Down · Special Ops · Jack Bauer

Webisodes

Day Zero · Conspiracy · The Rookie

("Coffee Run" · "Mistaken Identity" · "Extraction")