This episode guide is incomplete.
This page does not currently meet the standards of quality set by the Wiki 24 community. If you wish to improve it, read Creating episode pages for help, or see this example of a complete, Featured guide. Do not copy episode guides off the Fox.Com website. Please remove this message after the episode has been brought up to standard.
Cofell has a heart attack and dies, but Jack extracts Kim and Teri's location from Kevin Carroll. Concerned about the possibility of another mole, Nina and Tony agree not to tell Alberta Green anything. When Eli Stram comes to kill them on orders from Andre Drazen, Teri wrestles his gun away and shoots him. She fires a second shot to suggest a second death and she and Kim hide Eli's body.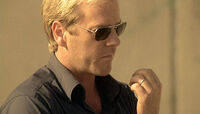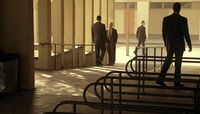 Episode Guide
Memorable Quotes
Nina Myers: You want me to put together an interrogation profile in 15 minutes?
Jack Bauer: I'll give you about five.
Jack Bauer: Don't make this any harder than it has to be.
Kevin Carroll: I was just about to say the same thing.
Jack Bauer: But I'm the one with the gun.
Dramatis Personae
Starring
Guest Starring
Special Guest Stars
Uncredited Co-Stars
Jenny Gago as Elementary School Principal
Previous episode:
Day 1 9:00am-10:00am
Current season:
Season 1
Next episode:
Day 1 11:00am-12:00pm