This is a list of characters with articles or unnamed characters entries who were antagonists during Day 1.
The main antagonists of the principal plots of Day 1 were the Drazen syndicate, led by Andre Drazen, with control later being reclaimed by Victor Drazen. Their objective, using Ira Gaines and later their own resources as the means, was to assassinate both David Palmer and Jack Bauer in revenge for the events of Operation Nightfall.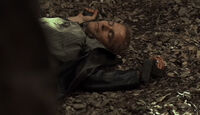 Ira Gaines: leader of mercenary group hired by the Drazens, whose group was tasked with killing Palmer and making Jack the scapegoat; shot by Jack when he infiltrated the compound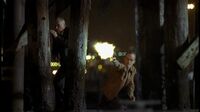 Andre Drazen and Victor Drazen: masterminds of the day and leaders of the Drazen syndicate; Andre took his revenge plot in his own hands after Gaines failure, his role as the leader of the syndicate was overtaken by Victor after he was freed; both were killed by Jack after he thought they killed Kim
Community content is available under
CC-BY-SA
unless otherwise noted.