This is a list of characters with articles or unnamed characters entries who were antagonists during Day 6.
The first 17 hours of the day revolved around plots led by a Muslim extremist terror cell, whose ringleader was Abu Fayed, who was being used in the ultranationalist plot of ex-Soviet general Dmitri Gredenko. The last 7 hours revolved around conflicts between CTU LA and Cheng Zhi over the FB subcircuit board. Jack Bauer's father Phillip Bauer played a role in both plots.
Fayed terrorist cell
Edit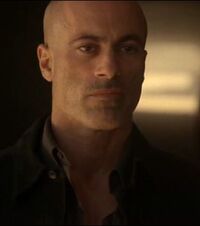 Abu Fayed: leader of a terrorist plot to detonate suitcase nukes in Los Angeles; hung by Jack Bauer
General Mohmar Habib: sponsor for Abu Fayed from their MidEast country, who was acting in secret against his country's wishes
Russian ultranationalist terrorist cell
Edit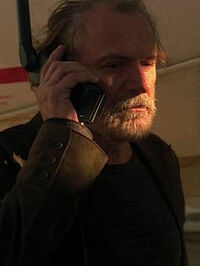 Dmitri Gredenko: Russian ultranationalist who provided Fayed with the five suitcase nuclear devices to use him and his cell as pawns in his own conspiracy to cripple the U.S. and pin the blame on the Middle East, allowing Russia to fill what would be the resultant power vacuum; had his arm cut off in order to remove a tracker, and eventually died as a result
BXJ Technologies cover-up
Edit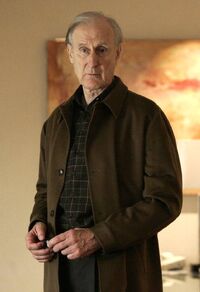 Phillip Bauer: founder of BXJ Technologies, father of Jack and Graem, he killed Graem and threatened Jack; supplied the Chinese with information to allow them to infiltrate CTU; agreed to repair the FB subcircuit board in exchange for his grandson and passage to China
Wayne Palmer assassination attempt
Edit
Chinese operatives
Edit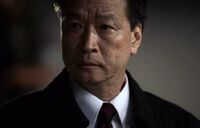 Cheng Zhi: Originally head of security at the Chinese consul in L.A. during Day 4, abductor of Jack Bauer at the end of Day 5, and associate of Charles Logan, Graem, and the conspirators of Day 5; Cheng's aim in Day 6 was to use Audrey Raines, whom he had captured in China, to pressure Jack in to giving him an FB subcircuit board from one of the Russian suitcase nukes, which would give the Chinese access to Russian defense information; arrested at the end of the day and sent to a federal detention center
Zhou Yong: leader of the Chinese mercenaries hired by Cheng Zhi to attack CTU and kidnap Josh Bauer
Cheng's operative: technician working for Cheng; he expressed reservations about the ability of Zhou and his mercenary group to carry out the CTU raid
Cheng's operative #2: henchman working for Cheng at the oil rig
Russian spy ring
Edit
Mark Bishop: lobbyist romantically involved with Lisa Miller, due to her access to Noah Daniels; unknown to Lisa, Bishop was downloading state secrets from her PDA and supplying them to the Russian government
Nikolai: the Russian intelligence agent (and Mark Bishop's contact) who conveyed Bishop's intelligence to President Yuri Suvarov in Moscow
Miscellaneous
Edit
Bryce Moore: a name found on Graem's cell phone which was deleted by Phillip; unknown significance but possibly the name of a conspirator
Community content is available under
CC-BY-SA
unless otherwise noted.