This is a list of characters with articles or unnamed characters entries who were antagonists during Day 7.
Day 7's antagonists can be split into three categories, all connected variously to one another; agents of the Sangalan People's Freedom Army (including Iké Dubaku and Benjamin Juma) using terrorism to force the US military out of Sangala; Starkwood, a mercenary company that led a plot with the Prion variant whose end goal was the claiming of a PMC role in national security; and the Prion variant cabal, which facilitated Starkwood (and subsequently Juma) to his own ends.
People's Freedom Army & conspirators
[
edit
|
edit source
]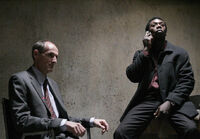 Colonel Iké Dubaku: General Juma's second-in-command of the People's Freedom Army; Dubaku entered the United States and began collaborating with Nichols to force President Allison Taylor to cancel the planned US intervention in Sangala by breaching the CIP firewall, and later tried to use Henry Taylor as a hostage, eliminated by Udo to prevent him from revealing further information.
Taylor administration conspiracy (mole network); nearly one-hundred U.S. gov't moles, including congressional staffers: Teo Dell'Amico, Terry Matalas, Shauna McGarry, Adam DeSilva, Geoff Aull, Kim Reynolds, Alexandra Gaines, John Poladian, Olivier Benamou, Scott Powell, Mike Posey, Kim Barnhart, Jim Sharp, Tristan Mejia, Eric Guerin, & Maren Brown
Henry Taylor hostage crisis
[
edit
|
edit source
]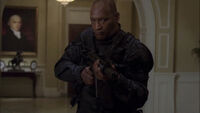 General Benjamin Juma: the leader of the rebel People's Freedom Army who staged his second power grab in Sangala during Redemption, which resulted in the deaths of two hundred thousand Sangalans. Staged the White House siege, which killed 14 American servicemen and almost killed President Allison Taylor, but was killed in self-defense by Jack Bauer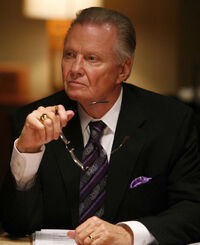 Jonas Hodges: an executive at Starkwood and key ally of Juma's who provided him with the intelligence needed to raid the White House
Olivia Taylor: started the plans for Hodges' murder; she did not give the final permission, but the assassin proceeded
Prion variant cabal & operatives
[
edit
|
edit source
]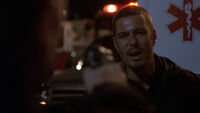 Alan Wilson: the most influential member of the prion variant cabal who was also a top-ranking executive in Day 5's Sentox nerve gas conspiracy; ultimately captured
Carl Gadsen: an unwitting Port Authority officer who was bribed to allow Starkwood's bioweapon to pass through security under the pretense that the container actually held electronics from South Korea; about to be shot by Starkwood operative but saved by Jack Bauer
Ken Dellao: threatened to run the story of the bio-threat unless Olivia Taylor gave into his demands, who did so and then used it against him to blackmail him
Community content is available under
CC-BY-SA
unless otherwise noted.