Although infrequently, dogs make memorable cameos in "24." Three appearances have been calculated to date.
Day 2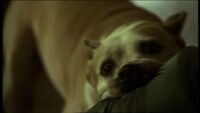 The anti-government American terrorist Joseph Wald kept a guard dog in his hideout at 221 Canyon View Road, Simi Valley, California. When Jack Bauer attempted to arrest Wald at about 11:30am, the dog rushed to its master's defense. Jack killed the dog before it could harm him, but the incident bought Wald enough time to flee to his secure panic room.
Another dog appears in the second day of "24," this time in an extended deleted scene. A dog barks at Kim Bauer after she assaults Gary Matheson with a tire wrench.
The Rookie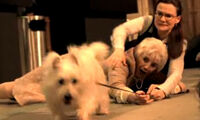 When the new CTU agent Jason Blaine went on a coffee run, he encountered Maude and her small dog in the street. He assisted her with the stubborn dog and saved her from a speeding van full of bank robbers. When Maude entered the Merchant Security Bank, her dog barked at them, annoying one of the robbers.
Appearances
Day 2
| | | | | | |
| --- | --- | --- | --- | --- | --- |
| 8:00am-9:00am | 9:00am-10:00am | 10:00am-11:00am | 11:00am-12:00pm | 12:00pm-1:00pm | 1:00pm-2:00pm |
| 2:00pm-3:00pm | 3:00pm-4:00pm | 4:00pm-5:00pm | 5:00pm-6:00pm | 6:00pm-7:00pm | 7:00pm-8:00pm |
| 8:00pm-9:00pm | 9:00pm-10:00pm | 10:00pm-11:00pm | 11:00pm-12:00am | 12:00am-1:00am | 1:00am-2:00am |
| 2:00am-3:00am | 3:00am-4:00am | 4:00am-5:00am | 5:00am-6:00am | 6:00am-7:00am | 7:00am-8:00am |
The Rookie