Don McGovern
Born:
Don Charles McGovern
Role:
1. Alan Morgan (stunt double)
2. CTU agent
Don Charles McGovern is a stunt performer and actor who had two roles on 24.
Don McGovern is an actor, writer, and music industry insider in the role of A&R executive/artist manager/executive producer. Don was road manager for the music teen sensation Tiffany and was responsible for finding the hit song, Could've Been, performed by Tiffany. The song became Tiffany's and M.C.A Records biggest single for that year. The song was subsequently sung by Carrie Underwood on American Idol.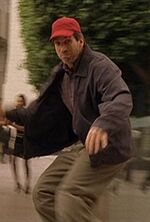 Don has appeared on many films and television shows as an actor or stuntman. Don studied acting extensively with renowned master acting coach Roy London. Some of Don's alumni are Brad Pitt, Gina Davis, Sharon Stone, and Hank Azaria. He has had a career spanning many decades. In between acting jobs, Don appeared as a stunt double for Sylvester Stallone in several of Stallone's films including Rocky III, in which Don was thrown out of the ring by "Hulk Hogan".
Don's twin brother, Bob McGovern, is also a stunt performer.
Alan Morgan
CTU agent
Glass Jaw (2018)
The Dark Knight (2008)
Rambo (2008)
Pearl Harbor (2001)
Con Air (1997)
The Hunt for Red October (1990)
Rambo III (1988)
First Blood (1982)
Rocky III (1982)
Westworld (2016)
Lost (2005)
24 (2001)
Alias (2001)
Angel (1999-2003)
Buffy the Vampire Slayer (1996-1997)
Tales from the Crypt (1989)
Hunter (1984-1985)
Community content is available under
CC-BY-SA
unless otherwise noted.