This article needs general attention.

This page does not currently meet the standards of quality set by the Wiki 24 community. Please visit the article's talk page to see what needs fixing and feel free to edit this page to assist with this task.
This is a list of explosives that appear on 24. Click on the links in each section to see a detailed breakdown of the weapon's use in a particular season.
Bomb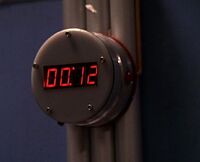 1 · 2 · 3 · 4 · 5 · 6 · R · 7 · 8 · 9 · L
Several non-specific explosive devices have been seen throughout the series, which are normally props designed by the 24 team. They range from small door-breaching charges to larger explosives that can take out buildings or vehicles.

C-4 explosive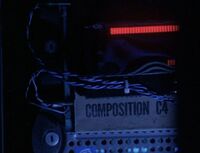 1 · 2 · 3 · 4 · 5 · 6 · R · 7 · 8 · 9 · L
Dynamite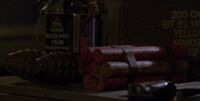 1 · 2 · 3 · 4 · 5 · 6 · R · 7 · 8 · 9 · L
M18 smoke grenade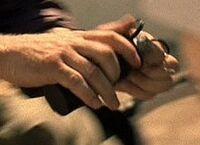 1 · 2 · 3 · 4 · 5 · 6 · R · 7 · 8 · 9 · L
M26 hand grenade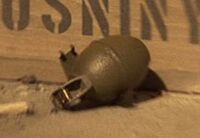 1 · 2 · 3 · 4 · 5 · 6 · R · 7 · 8 · 9 · L
M67 hand grenade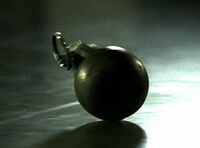 1 · 2 · 3 · 4 · 5 · 6 · R · 7 · 8 · 9 · L
M84 stun grenade
1 · 2 · 3 · 4 · 5 · 6 · R · 7 · 8 · 9 · L
Mk 2 hand grenade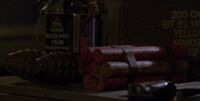 1 · 2 · 3 · 4 · 5 · 6 · R · 7 · 8 · 9 · L
Model 7290 flashbang grenade
1 · 2 · 3 · 4 · 5 · 6 · R · 7 · 8 · 9 · L
Nuclear bomb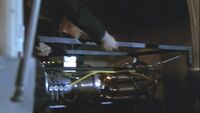 1 · 2 · 3 · 4 · 5 · 6 · R · 7 · 8 · 9 · L
Plastic explosive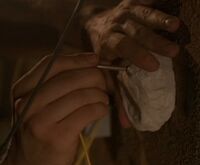 1 · 2 · 3 · 4 · 5 · 6 · R · 7 · 8 · 9 · L
Primer cord
1 · 2 · 3 · 4 · 5 · 6 · R · 7 · 8 · 9 · L
TD Multi-Port Plus flashbang grenade
1 · 2 · 3 · 4 · 5 · 6 · R · 7 · 8 · 9 · L