Faith Elizabeth
Born:
September 14, 1991
Haywards Heath, Sussex, England, UK
Role:
CIA worker

Faith Elizabeth (born September 14, 1991; age 28) played an unnamed CIA worker in 24: Live Another Day.
Biography
Edit
Faith Elizabeth was born in Haywards Heath, Sussex, in England. Although she was interested in acting since childhood, an accident during her teenage years prevented her from following that route. In January 2013, she decided to pursue acting again and has been working as a professional actress since.
Elizabeth has appeared in shows like Jonathan Creek, Holby City, and Endeavour (with Liam Garrigan), as well as films like Vampire Academy, Skin Traffik (with Michael Madsen, Liquid Thomas and Rimmel Daniel), and the upcoming Legacy (with Alex Lanipekun). In 2014, she also appeared in Muppets Most Wanted with Erick Hayden, Jorge Leon Martinez, Morris Minelli, and Jon Wennington, all of who also appeared in 24: Live Another Day.
Elizabeth studied with the Actors Temple. She also has a daughter, Summer, born in August 13. 2011.
Role on 24Edit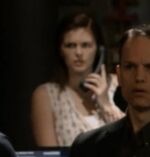 Elizabeth started filming in February 2014, and spent 17 days filming her scenes. Her role was of an employee at the CIA London station. She can be seen wearing a dark skirt, and a sleeveless blouse. Although her character was an unnamed background extra, the props department prepared a name tag for her with the name "Kelly Williams", which was the name of the head of costume for the show.
Elizabeth's character can be seen getting medical help after the explosion at the end of the first episode. However, her character continued to appear in subsequent episodes.
24 credits Edit
Selected filmography
Edit
Raymond's 5 (2017)
White Dreams (2015)
Legacy (2015)
Skin Traffik (2014)
Muppets Most Wanted (2014)
Vampire Academy (2014)
Television appearances
Endeavour (2014)
Holby City (2014)
Jonathan Creek (2013)
External links
Edit
Community content is available under
CC-BY-SA
unless otherwise noted.