Flight 520 was a diplomatic flight scheduled to fly from Los Angeles' Van Nuys Airfield to Frankfurt during Day 5. It was operated by a Boeing 727-200 Advanced. The flight staff consisted of Captain Stan Cotter, co-pilot Scott Evans, flight attendants Sue and Dan; an Air Marshal, George Avila, was also aboard. Don Fakinson was the co-pilot scheduled to fly with Cotter, but he was replaced at the last minute by Scott Evans, an accomplice of Christopher Henderson. The flight was hijacked by Jack Bauer.
Jack Bauer boarded the flight and interrogated Hans Meyer, a passenger, about an audio recording of Christopher Henderson and President Charles Logan. Bauer would later learn that Evans, the co-pilot, had the recording.
The flight was ordered to turn around and head back to Los Angeles, and Bauer took the plane captive to prevent it. Bauer entered the cockpit, but Cotter was knocked out. Evans handed Bauer the recording and Logan was told by Graem to shoot the plane down.
Graem and his group simulated a VCI distress signal coming from the plane, which gave Logan proper authorization to shoot it down. When Karen Hayes and Bill Buchanan found out, they warned Jack, who told Evans to land the plane. Evans told Jack that they were still 100 miles from the nearest airport. Buchanan found a strip of highway for them to land on. Jack made Evans handcuff himself to the flight controls, and they prepared for landing.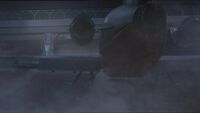 When Admiral Kirkland told Logan that the plane appeared ready to land, he told Logan to abort his command to shoot down the plane. Logan, not wanting to give up Jack Bauer and the recording, told him to shoot the plane down, but Mike Novick told him that the plane is obviously no longer a threat, and Logan decided to abort.
After the passengers prepared for an emergency landing, Evans landed on the highway, stopping mere feet away from an overpass. The passengers left the plane, while Jack went out the emergency exit to avoid Logan's military perimeter and to find Curtis Manning to get to CTU.
People on board
Edit
Picture
Name
Role
Stan Cotter
Pilot
Captain Cotter's regular co-pilot, Don Fakinson, was replaced unexpectedly by Scott Evans before Flight 520 took off. When Cotter learned of the presence of a hijacker, Jack Bauer, in the baggage area, he emptied the compartment of air until Bauer threatened to crash the plane. After ruminating on evidence that Bauer was a federal agent, he became convinced the his co-pilot was a criminal, and opened the cockpit door for Jack.
Scott Evans
Co-pilot
Somehow, Evans replaced Don Fakinson as co-pilot, and brought evidence aboard the plane that implicated President Charles Logan in the Sentox nerve gas conspiracy. He supported the plan to deprive Jack Bauer of air in the baggage hold, but only to protect himself. Capt. Cotter realized that Evans himself was the criminal on board, so he went to open the cockpit door. Evans beat him unconscious with a flashlight, but Jack stormed in and retrieved the audio recording. Bauer forced Evans to land the plane on a Los Angeles highway.
Jack Bauer
Hijacker
Jack Bauer infiltrated the airplane because he knew that someone aboard was given an audio recording by terrorist collaborator Christopher Henderson. The recording implicated President Charles Logan in the Sentox nerve gas conspiracy. He knocked out the Air Marshal, interrogated a suspect among the passengers, got temporarily locked in the baggage compartment, searched many of the passengers and their bags, and then learned that Henderson's accomplice was in the only place he could not enter: the cockpit. Jack convinced the pilot to open the door, retrieved the evidence from the co-pilot, and then had the co-pilot safely land the plane on a highway.
George Avila
Air Marshal
Avila was located and knocked unconscious by Jack Bauer, who learned that Avila was the Air Marshal from Chloe O'Brian. Avila regained consciousness during turbulence, locked Jack in the baggage compartment, and convinced Sue to give the go-ahead to Captain Cotter to depressurize the area to knock out Jack. When Jack convinced the captain to let him out, he forced Avila into the compartment, and locked him in.
Sue
Flight attendant
Sue maintained order on the plane when she discovered that George Avila, the Air Marshal, had been knocked out. Knowing that someone else was with the hijacker in the baggage compartment, and fearing for his safety, she had to be convinced by Avila to let the captain depressurize the area. She cooperated with Avila and followed the orders of Captain Cotter until Jack gained control of the cabin. She then assisted Jack.
Hans Meyer
Passenger
Jack Bauer and Chloe O'Brian suspected Meyer to be the accomplice of Henderson who was hiding the audio recording because Meyer did business with Henderson. Jack beat him and forced him into the baggage area, but Meyer had no idea what Jack was talking about. Just as Jack was beginning to believe that Meyer was innocent, Chloe discovered that it was impossible for Meyer to be their suspect. Meyer remained in the baggage area until the flight landed.
Dan
Flight attendant
Dan assisted Sue in maintaining order in the passenger cabin.
(name unspecified)
Passenger
This man demanded to know why George Avila was unconscious, but was firmly told by the flight attendant Sue to sit back down to maintain order.
(name unspecified)
Passenger
This man was the first passenger to see Jack Bauer holding Sue at gunpoint, and yelled in fear, frightening the rest of the passengers.
(name unspecified)
Passenger
This passenger screamed when she saw the unconscious body of George Avila slump onto the ground. She was later one of those passengers who had her possessions individually searched by Jack Bauer.
(name unspecified)
Passenger
This passenger, knowing only that Jack Bauer was an armed hijacker, attempted to rush Jack and disarm him. Jack saw the man coming and shouted for him to sit down, threatening him with his pistol.
Background information and notes
Edit
The flight number was 520. The episode it was primarily shown in was Season Five, Episode 20, thus making 520.
A car marked with the Union Jack (the national flag of the United Kingdom) pulled up to plane shortly before takeoff.
When Chloe receives a security alert about the hijacking her computer screen says Flight 520's destination is London Heathrow, despite the fact all other dialogue points to the destination being Frankfurt.
Appearances
Edit
Season 5
Prequel

"7:00am-8:00am"

"8:00am-9:00am"

"9:00am-10:00am"

"10:00am-11:00am"

"11:00am-12:00pm"

"12:00pm-1:00pm"

"1:00pm-2:00pm"

"2:00pm-3:00pm"

"3:00pm-4:00pm"

"4:00pm-5:00pm"

"5:00pm-6:00pm"

"6:00pm-7:00pm"

"7:00pm-8:00pm"

"8:00pm-9:00pm"

"9:00pm-10:00pm"

"10:00pm-11:00pm"

"11:00pm-12:00am"

"12:00am-1:00am"

"1:00am-2:00am"
"2:00am-3:00am"
"3:00am-4:00am"

"4:00am-5:00am"

"5:00am-6:00am"

"6:00am-7:00am"
Community content is available under
CC-BY-SA
unless otherwise noted.