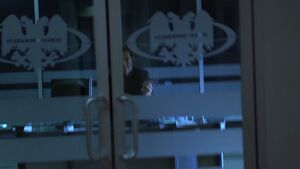 Awhile ago, over on Talk:Day 7: 2:00pm-3:00pm one of our eagle-eyed editors posted this image of "Starkwood Global" as it appeared a full 5 episodes before the Hodges/Seaton revelation. The image is from the scene where Jack, Bill, Tony, & Renee raid the Dubaku/Nichols CIP-device room (when that poorly-edited shootout occurs). Also, as I watch Day 7: 10:00pm-11:00pm, Jack says to Tony "Starkwood was involved with everything that's happened today. They were the ones that helped Juma and his men bring down those planes and attack the White House." I think this is proof enough that David Emerson was an employee of Starkwood, and yet, his article in its current incarnation doesn't even mention the company name a single time.
My point with this post is to see if anyone has any issue before I and others go updating character articles/episode guides for the earlier parts of Season 7 to reflect Starkwood's involvement, even though the name hadn't been revealed yet IU (with the easily-missed exception of this image here). Blue Rook  talk  contribs 06:30, May 2, 2011 (UTC)
I've been having a think about the whole early plot of Season 7 recently but don't think Emerson was ever directly working for Starkwood. The building with their crest belonged to Nichols, and Nichols was clearly highly involved with Starkwood, but Emerson was only ever an independent contractor hired by Nichols to get him Michael Latham, the CIP device and the Matobos.--Acer4666 (talk) 20:28, December 30, 2012 (UTC)
Community content is available under
CC-BY-SA
unless otherwise noted.