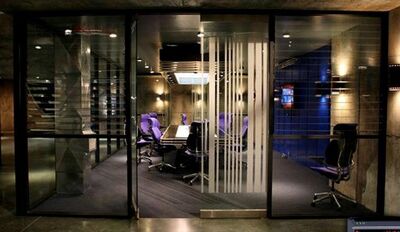 Welcome to the Situation Room! It is here that you can talk about Wiki 24, ask questions, suggest ways to improve the site, report bugs and technical problems, or provide general comments. Wiki 24 is always open to new ideas to improve our style, policies and format, so feel free to question things and/or suggest changes and additions. Be sure to read the Help page before posting.
To add a new topic, please type the title in the box below and click "add new topic". Keep in mind that this is not a site for discussion of the show 24 unless it specifically pertains to the creation of this encyclopedia. Be sure to timestamp your posts by including four tildes at the end (~~~~) or by pressing the
button on the editing toolbar. Note that you may have to purge this page to see changes. For older topics, see the Old Situation Room Archives.
---
View recent changes for The Situation Room | View alphabetic list of topics
| Topic | Last Edit | Last Author |
| --- | --- | --- |
| Bonnie Kolber | 06:15, 5 October 2021 | William.Y.Fremont |
| Props as canon | 11:54, 9 May 2021 | Acer4666 |
| Japanese series stunts | 19:24, 12 March 2021 | Acer4666 |
| Cast/crew interviews | 00:07, 9 October 2020 | Thief12 |
| Legacy in Navboxes | 19:48, 10 February 2020 | |
| Live Another Day as "Season 9" | 07:28, 28 January 2019 | |
| 24 Japanese remake | 05:44, 12 January 2019 | |
| Fandom migration | 20:15, 7 November 2018 | |
| Discussions | 20:14, 7 November 2018 | |
| 24 prequel in the works | 17:45, 1 August 2018 | |
| Cleaning up unnamed characters | 11:25, 10 June 2018 | |
| Appearances | 11:54, 15 April 2018 | |
| External links | 21:14, 16 January 2018 | |
| Timeline & Legacy | 18:09, 1 December 2017 | |
| LA Tribune | 09:20, 10 November 2017 | |
| Floating article icons | 12:01, 4 August 2017 | |
| Category exhibition | 08:54, 20 June 2017 | |
| Two word disambiguation | 17:01, 30 May 2017 | |
| Consistency issues with actor and character infoboxes | 07:10, 25 May 2017 | |
| Indian only pages | 20:57, 28 March 2017 | |
| Spoiler Policy... toss it? | 21:59, 14 March 2017 | |
| What happened to the "top contributors" list? | 22:54, 28 February 2017 | |
| New mobile-friendly infobox | 22:13, 9 February 2017 | |
| Main page redesign, fonts, + a million other things | 21:50, 6 February 2017 | |
| Appearances lists | 23:01, 5 February 2017 | |
| Day 10 | 22:17, 1 February 2017 | |
| Phones on 24 | 14:04, 8 January 2017 | |
| Bot edit policy proposal | 14:01, 8 January 2017 | |
| 24: The game images in places in articles for people's dates | 09:08, 6 November 2016 | |
| Comic con pilot screening | 01:33, 2 November 2016 | |
| What counts as a name | 18:59, 27 October 2016 | |
| Episode titles pt II | 18:29, 28 September 2016 | |
| Small design change for navbox template | 19:02, 3 September 2016 | |
| New Wiki for Indian 24 series | 22:14, 29 August 2016 | |
| Icon template | 08:49, 23 August 2016 | |
| Featured artists | 02:24, 18 July 2016 | |
| Crime TV show footer | 16:50, 12 June 2016 | |
| New killcount video For Jack Bauer in all seasons | 03:20, 13 May 2016 | 184.161.244.142 |
| Video game credits in filmography sections | 23:41, 28 April 2016 | |
| 24 Sucks? | 17:46, 23 April 2016 | |
| Another recurring actor maybe ... | 22:41, 21 March 2016 | |
| Agent Johnson | 21:22, 21 March 2016 | |
| Adam Morgan actor | 20:59, 21 March 2016 | |
| Stunts & uncredited actors | 15:36, 20 March 2016 | |
| No data/unspecified NEW status proposed | 11:59, 20 March 2016 | |
| Cheng shooter who killed Audrey | 11:50, 20 March 2016 | |
| Proposed new episode sidebar | 11:00, 20 March 2016 | |
| Separate articles for unnamed characters | 18:16, 19 March 2016 | |
| Character sidebar | 22:28, 19 February 2016 | |
| Bullpen | 15:56, 30 December 2015 | |
| Fun with terminology | 20:17, 19 December 2015 | |
| Nabila | 18:35, 23 November 2015 | |
| Deleted scenes on LAD | 05:21, 23 November 2015 | |
| Actor / character statistics | 10:59, 4 November 2015 | |
| Research Files | 19:32, 28 October 2015 | |
| About Nina Myers on Day 3... SPOILERS | 12:09, 12 October 2015 | |
| Season X/DayX and actor categs | 20:26, 24 June 2015 | |
| Character image categories | 02:53, 19 June 2015 | |
| Maps directory on the site | 22:30, 14 June 2015 | |
| Article for Bill's safe house | 20:49, 10 June 2015 | |
| Mandy | 19:58, 16 May 2015 | |
| DVD detailing | 00:26, 11 May 2015 | |
| New Wiki formatting highlight | 18:33, 2 May 2015 | |
| Ads to be integrated among content | 14:28, 25 December 2014 | |
| Sidebar changes | 10:35, 22 November 2014 | |
| Season 2 shooting scripts | 14:50, 21 November 2014 | |
| Day X Characters | 02:05, 11 October 2014 | |
| 24 Spin-off Script Development | 17:49, 7 October 2014 | 172.56.27.31 |
| Video policy | 19:18, 26 August 2014 | |
| Proposed move: CTU field agents | 02:45, 17 August 2014 | |
| Unrelated blogs | 16:50, 4 August 2014 | |
| Character headings (again) | 19:09, 16 July 2014 | |
| Actor/crew template changes | 19:05, 9 July 2014 | |
| Inline citing vs. footnotes | 00:44, 8 July 2014 | |
| Watchlist | 23:32, 1 July 2014 | |
| Main characters of LAD | 01:16, 27 June 2014 | |
| Collaboration on episode synopses | 22:58, 15 June 2014 | |
| Ep template | 20:44, 20 May 2014 | |
| Press releases as canon | 18:04, 18 May 2014 | |
| Sidebar concerns | 16:50, 13 May 2014 | |
| Keanu Reeves | 19:41, 4 May 2014 | |
| 24 category | 01:34, 28 March 2014 | |
| All Eight Seasons on Blu-Ray coming? | 09:05, 26 March 2014 | |
| 24 Wikia Categories Inquiries Thread | 19:55, 17 March 2014 | |
| On-Screen Kills Current Inquiries | 19:53, 17 March 2014 | |
| What happened to Barute | 14:28, 13 March 2014 | |
| Main Images | 02:23, 13 March 2014 | |
| New poll queries? | 18:57, 9 March 2014 | |
| What happened to audrey raines after season 6 | 04:08, 13 February 2014 | 74.71.137.17 |
| Information Confirming Procedures Revisions? | 00:59, 5 February 2014 | |
| Season formats | 00:49, 5 February 2014 | |
| New appearances template | 21:43, 12 January 2014 | |
| Date template on actor articles | 19:33, 2 January 2014 | |
| Nebraska not shown in States table? | 13:35, 28 December 2013 | |
| 24 lists that could become pages on here? | 08:09, 14 December 2013 | |
| The Ultimate Project | 13:51, 11 November 2013 | |
| Syndication/reruns page? | 07:32, 10 November 2013 | |
| News channels | 03:00, 2 November 2013 | |
| Category changes | 04:19, 11 October 2013 | |
| Son of a Bitch | 00:01, 24 September 2013 | |
| Any new info on the Indian 24 series? Will it be in english? | 15:49, 17 September 2013 | |
| Non-speaking roles pages revision possible? | 22:11, 8 August 2013 | |
| Furniture | 23:31, 19 July 2013 | 71.86.162.118 |
| Redesign | 17:47, 30 June 2013 | |
| Nightfall conflicts | 19:07, 26 June 2013 | |
| Navigation templates and whatlinkshere | 14:37, 12 June 2013 | |
| Beroglide | 12:48, 24 March 2013 | |
| Why did Nina Myeres Kill Jacks Wife | 01:51, 11 March 2013 | |
| Why is Michele Dessler killed ? | 13:23, 19 February 2013 | |
| Recent ASHPD24 *Deaths on 24* edits | 07:37, 4 February 2013 | |
| Starkwood and Emerson/Nichols | 20:28, 30 December 2012 | |
| Best 24 Villains | 07:40, 21 December 2012 | |
| Age of Jack | 16:58, 4 December 2012 | |
| Phillip Bauer - Charles Logan connection | 02:40, 7 November 2012 | |
| Main page reformat | 09:07, 25 October 2012 | |
| New navigation | 09:01, 18 October 2012 | |
| Kiefer Sutherland's Stunt Double | 17:52, 16 October 2012 | |
| Carlos Bernard and Mia Kirshner S4 Set Incident (Extra Details) | 08:09, 5 October 2012 | |
| Upload Season 7 photos | 19:37, 28 September 2012 | |
| 24: Dossier | 17:55, 27 September 2012 | 82.5.151.9 |
| Google maps extension | 00:32, 6 September 2012 | |
| Beautiful Women of "24" | 22:49, 5 September 2012 | |
| Question about a fake gun fight scene | 17:50, 28 August 2012 | |
| Wiki 24 Poll Idea | 22:54, 21 August 2012 | |
| Shows similar to 24 | 07:17, 31 July 2012 | |
| "Son of a bitch" | 21:54, 22 July 2012 | |
| Day 3 Interviews | 21:53, 22 July 2012 | |
| 24- Alternate DVD Versions | 16:48, 14 July 2012 | |
| "24" Actors Who Have Appeared on "The Sopranos" | 22:24, 13 July 2012 | |
| Jack Bauer's House | 10:40, 24 June 2012 | |
| Implausible Moments on 24 (Funny) | 07:18, 24 June 2012 | |
| "Mentioned" cate change? | 19:25, 21 June 2012 | |
| Motives | 19:20, 21 June 2012 | |
| Voice actors | 19:02, 21 June 2012 | |
| Watches | 18:44, 21 June 2012 | |
| 24 in Pop Culture | 18:35, 21 June 2012 | |
| 24: Indian Series with Anil Kapoor page? | 17:04, 21 June 2012 | |
| CTU Official Manual Thing Book | 16:59, 21 June 2012 | |
| "Not Included" Deaths for Day 3 | 18:26, 19 June 2012 | |
| What computer is it? | 01:46, 19 June 2012 | |
| Canon & Books | 19:20, 18 June 2012 | |
| CTU rank possible confusion | 19:14, 18 June 2012 | |
| Walt Cummings Chief of Staff in season 4? | 18:06, 18 June 2012 | |
| Mistake - number of countries | 22:36, 10 June 2012 | 92.232.138.74 |
| The president's tradE | 06:44, 2 February 2012 | |
| Entertainment Calendar | 21:09, 20 January 2012 | |
| Adding "Day X" before episode appearance" | 06:08, 10 January 2012 | |
| Making a wiki 24 hierarchy | 22:56, 6 January 2012 | |
| There's LOTS of excellent pics on imdb.com/24. PLEASE use all of them. | 22:44, 4 January 2012 | |
| Random questions about sidebars | 03:09, 21 September 2011 | |
| Whatlinkshere on unnamed character pages | 17:24, 18 September 2011 | |
| Vibrant Related Articles | 23:06, 1 September 2011 | |
| Updating the Weapons page | 22:13, 10 August 2011 | |
| Jonas Hodges in Season 1 | 22:25, 8 August 2011 | |
| Filming locations | 17:06, 20 July 2011 | |
| New Editor | 22:47, 19 July 2011 | |
| Man on motorcycle next to Kim Bauer and Jane Saunders in Day 3? | 06:58, 15 July 2011 | |
| Chat | 20:08, 7 July 2011 | |
| 24 special feature? | 12:57, 19 June 2011 | |
| What does CRT stand for? | 14:52, 9 June 2011 | |
| Appearance heading off centre | 16:48, 8 June 2011 | |
| Re-opening the character appearances template consensus discussion | 14:44, 8 June 2011 | |
| Genesis of 24 | 15:19, 4 June 2011 | |
| Actor pictures | 22:59, 22 May 2011 | |
| Minor Technical Changes Coming | 13:09, 2 May 2011 | |
| Spotting OOU items | 14:40, 21 April 2011 | |
| Taylor administration conspiracy nomenclature | 09:21, 20 April 2011 | |
| Inclusion policy of unnameds | 03:45, 16 April 2011 | |
| 2 small policy ideas | 11:35, 24 March 2011 | |
| Actor pages | 17:50, 19 March 2011 | |
| Featured Article: new system *needed* | 23:24, 9 March 2011 | |
| Disambig | 05:39, 23 February 2011 | |
| Character analyses | 16:16, 20 February 2011 | |
| Transcripts | 00:35, 10 February 2011 | |
| Sweeping changes | 02:38, 9 February 2011 | |
| FOX on Demand | 00:45, 4 February 2011 | |
| Weapons overhaul | 21:06, 27 January 2011 | |
| Character by season articles | 01:24, 27 January 2011 | |
| Organisations vs locations | 00:42, 27 January 2011 | |
| Marwan's terror ring: possible name discovered | 08:09, 26 January 2011 | |
| VANDALS | 20:51, 7 January 2011 | |
| Page movers: new user rights | 11:56, 7 December 2010 | |
| Wikia's "new look" | 08:45, 1 December 2010 | |
| Wiki edit problem | 08:17, 20 November 2010 | 88.193.163.124 |
| Broken categories (?) | 05:52, 18 October 2010 | |
| Mentioned characters | 19:47, 12 October 2010 | |
| Jack introspective talk | 19:24, 5 October 2010 | |
| Unknown actors | 07:05, 17 August 2010 | |
| Rating system | 23:41, 2 August 2010 | |
| Actor categories | 23:33, 2 August 2010 | |
| Table styles | 21:55, 2 August 2010 | |
| Missing recaps | 10:24, 27 July 2010 | |
| "Day X" headings | 20:28, 26 July 2010 | |
| Technical | 13:03, 20 July 2010 | |
| Michelle | 14:52, 12 July 2010 | 173.164.11.142 |
| Location/object categorisation | 16:52, 30 June 2010 | |
| President Names | 17:15, 24 June 2010 | |
| Sidebar overhaul | 13:11, 21 June 2010 | |
| American vs. British English | 03:02, 15 June 2010 | |
| Episode pages | 02:09, 10 June 2010 | |
| Quotes on character intros | 22:26, 8 May 2010 | |
| Changes to the canon policy | 05:29, 4 May 2010 | |
| Seasons 1-6 on blu ray? | 18:24, 20 April 2010 | |
| New, single appearances template | 11:42, 7 April 2010 | |
| Episode starting time | 02:35, 22 March 2010 | |
| Greater appreciation of crew members on episode pages | 20:08, 15 March 2010 | |
| DVD/Blu Ray/VHS image category | 13:19, 3 March 2010 | |
| Using past tense in articles... | 19:11, 5 February 2010 | |
| Season 8 to Season List | 17:47, 4 February 2010 | |
| Goofs/mistakes - Alarm clock in Keith's room | 02:25, 4 February 2010 | |
| Quotes/italics for TV series ? | 19:21, 3 February 2010 | |
| Episode titles | 03:36, 5 January 2010 | |
| Redemption an episode? | 21:18, 18 December 2009 | |
| Split screen pictures | 18:55, 15 December 2009 | |
| Featured article of the month | 20:45, 8 December 2009 | |
| Season navigation | 03:16, 5 December 2009 | |
| Actors on other shows | 02:33, 7 November 2009 | |
| Episode page pic sizes | 11:34, 26 September 2009 | |
| Do we have pages exclusively for a couple ? | 03:18, 25 June 2009 | |
| Consensus checks | 13:56, 17 June 2009 | |
| Skin background | 11:43, 11 June 2009 | |
| Featured Articles | 20:42, 29 May 2009 | |
| H&K USP | 08:35, 22 May 2009 | |
| Skin and Main Page | 01:44, 14 May 2009 | |
| Trivia on Main Page | 01:39, 14 May 2009 | |
| Character Voting | 15:19, 9 May 2009 | |
| Navigation to Seasons | 23:33, 19 April 2009 | |
| Name for Day 7 Conspiracy | 18:51, 19 April 2009 | |
| Name for Starkwood's weapon | 12:11, 12 April 2009 | |
| Timeline | 12:35, 8 April 2009 | |
| A change to episode gallery pages | 08:56, 4 April 2009 | |
| CHARACTER on Day X articles | 20:26, 1 April 2009 | |
| Isn't this a spoiler? | 03:00, 28 March 2009 | |
| Previously... on Main Page | 01:05, 28 March 2009 | |
| Since no one answered... | 14:29, 17 March 2009 | |
| Unnamed characters | 03:56, 27 February 2009 | |
| Manual of Style disambiguation changes proposal | 21:37, 26 February 2009 | |
| Featured article nom idea | 18:47, 26 February 2009 | |
| Character Infobox Thought | 03:42, 24 February 2009 | |
| Cross-referencing template | 20:02, 18 February 2009 | |
| Switching to the new parser | 09:53, 11 February 2009 | |
| Timestamp Standard | 21:13, 8 February 2009 | |
| Quotes | 21:39, 4 February 2009 | |
| One and two episode characters | 21:53, 2 February 2009 | |
| Different Image for Day 7 1:00pm - 2:00pm | 20:32, 2 February 2009 | |
| Actor/Character connections | 13:47, 28 January 2009 | 209.7.195.158 |
| WYSIWYG editor | 19:50, 23 January 2009 | |
| New Projects? | 08:36, 20 January 2009 | |
| Little Problem | 01:38, 18 January 2009 | |
| Error episode 3 season 7 | 05:22, 17 January 2009 | |
| How to create a quote page? | 07:47, 16 January 2009 | |
| "Expanded universe" kills by Jack Bauer | 01:33, 14 January 2009 | |
| Heads up on Season 7 pre-released information | 07:42, 10 January 2009 | |
| Proposed Exceptions | 13:23, 1 January 2009 | |
| Last edit date on bottom of page seems always wrong | 16:58, 30 December 2008 | |
| "Poor Man's Process", and other terms. | 16:42, 30 December 2008 | |
| WTF is up with the X-Files ADs? | 07:12, 20 December 2008 | |
| Bottom-of-the-page templates | 22:49, 14 December 2008 | |
| A new forum in order | 23:49, 5 December 2008 | |
| "On this day..." -- Isn't it Jude Ciccolella's birthday, too? | 16:21, 3 December 2008 | |
| New item for the main page | 21:50, 30 November 2008 | |
| What is 24: dossier? | 21:44, 25 November 2008 | |
| New Additions | 14:52, 26 October 2008 | |
| He Wiki 24 | 20:28, 19 October 2008 | |
| Credits for actors/characters | 23:04, 2 October 2008 | |
| Deletion policy idea | 14:26, 1 October 2008 | |
| Lynne Kresge's Status | 15:26, 25 September 2008 | |
| Link colours | 22:56, 12 September 2008 | |
| 24 Project on Wikipedia | 21:37, 7 September 2008 | |
| "First seen" info-box word change proposal | 15:27, 31 August 2008 | |
| Four tildes | 09:04, 31 August 2008 | |
| Redirects? | 23:58, 24 August 2008 | |
| Main wiki logo change! | 08:17, 13 August 2008 | |
| New cast photos | 19:37, 26 July 2008 | |
| Season 7 Page? | 21:10, 24 July 2008 | |
| Are we allowed to edit others' userpages? | 03:50, 23 July 2008 | |
| Sweet image trick! | 16:31, 17 July 2008 | |
| Characters from deleted scenes | 21:31, 28 June 2008 | |
| The Game appearances template | 21:02, 28 June 2008 | |
| Image category policy | 21:29, 27 June 2008 | |
| 24 Parody | 21:31, 9 June 2008 | 71.215.103.219 |
| In real life, what would Chloe's job be? | 21:58, 31 May 2008 | |
| Problem with episode infoboxes | 22:19, 26 May 2008 | |
| Nailing down the date | 15:09, 19 May 2008 | |
| Episode guides requiring images | 21:59, 14 May 2008 | |
| "Latest Intel" | 23:37, 31 March 2008 | |
| Episode guides and Uncredited appearances | 03:57, 31 March 2008 | |
| Fansite page | 19:56, 20 February 2008 | |
| Trivial Question | 11:46, 24 January 2008 | |
| Did i make a mistake with Steve Day 5 ? | 17:49, 17 January 2008 | |
| Chronology problem? | 21:33, 16 January 2008 | |
| Hospital Name- Season 5 | 02:58, 16 January 2008 | |
| Book episode guides | 23:05, 28 December 2007 | |
| "Government" category problem | 05:34, 24 December 2007 | |
| SUVs | 03:10, 20 December 2007 | |
| Removal of Excess Intel | 13:02, 11 December 2007 | |
| Needs updated articles on great new '24' reference books! | 02:48, 27 November 2007 | |
| Hernandez | 02:45, 27 November 2007 | |
| Fr Wiki 24 | 18:34, 24 November 2007 | |
| Images | 23:38, 16 November 2007 | |
| News | 21:02, 14 October 2007 | |
| Deleted page complaint | 02:54, 1 October 2007 | |
| Featured Article... again! | 23:13, 30 September 2007 | |
| September's Featured Article | 22:22, 25 September 2007 | |
| Season 5 prequel | 11:17, 16 September 2007 | 172.159.189.202 |
| Fall season footer | 18:49, 15 September 2007 | |
| August's Featured Article | 00:00, 14 August 2007 | |
| Messed up colors | 20:36, 10 August 2007 | |
| Unnamed foreign characters (diplomats etc.) | 19:56, 25 July 2007 | |
| Quote of the Day | 04:05, 25 July 2007 | |
| How Do You Do It? | 02:47, 23 July 2007 | |
| New categories | 17:12, 16 July 2007 | |
| Character profiles | 23:34, 29 June 2007 | |
| Unknown character appearances | 05:02, 26 June 2007 | |
| Pictures | 02:32, 24 June 2007 | |
| Templates | 22:21, 15 June 2007 | 24.151.47.9 |
| Searching | 16:56, 10 June 2007 | |
| New forum! | 17:03, 9 June 2007 | |