Gary J. Wayton
Doubling as Gary during his fight with Kim
Birthplace:
Southington, Connecticut, USA
Role:
Gary Matheson (stunt double)
Gary J. Wayton is a stunt performer and actor who had 2 roles in Season 2 of 24: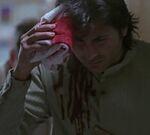 Wayton's stunt movie performance credits include blockbusters such as Indiana Jones and the Kingdom of the Crystal Skull (with David Kilde), Fast Five (with Yorgo Constantine and Henry Kingi, Sr.) and Olympus Has Fallen (with Simon Rhee, Ron Yuan, Clayton Barber and Arnold Chon and fight coordination by J.J. Perry). Wayton has also doubled his real-life friend, actor Scott Bakula, in the majority of his film and television roles as well.
Production of the segment is documented in 24: Behind the Scenes book by Jon Cassar and Rodney Charters.
Gary Matheson
Patient
Community content is available under
CC-BY-SA
unless otherwise noted.