Hiro Koda
Born:
Steven Hiro Koda
January 31, 1974
Birmingham, Alabama, USA
Role:
1. Fayed's guard
2. Hopkins
Hiro Koda (born January 31, 1974; age 46) is a stunt performer who played one of Abu Fayed's guard on Season 6, and a CTU field agent called Hopkins on Season 8.
Hiro Koda was born in Birmingham, Alabama. He began his career working on early Roger Corman films. Shortly after, he found his way onto the popular kids show Power Rangers where he worked for 7 years working as a stuntman. Since then, Hiro has worked on over 150 films and television shows. He has been nominated for 2 Taurus World Stunt Awards and continues to work on some of the industry's top shows as a stunt coordinator and 2nd unit director.
In 2002, Hiro became a member of the Directors Guild of America, allowing him to move into the next phase of his career as a film maker. His directing accomplishments include several short films, TV shows, commercials, and a full length feature film. He became a series director on Supah Ninjas, for which he won the Emmy for Outstanding Stunt Coordination last year.
Through his career, he has also acted in shows like The Unit (with Dennis Haysbert and Max Martini), Numb3rs (with Peter MacNicol, Navi Rawat, and Assaf Cohen), CSI: Miami (with Christina Chang), and Criminal Minds (with Anthony Azizi, Kevin Chapman, and Wiley Pickett).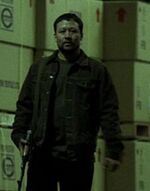 Hiro Koda has performed two roles on 24:
In Day 6: 10:00pm-11:00pm, he played one of Abu Fayed's terrorists who greeted Fayed at his warehouse when he arrived in the refuse truck. He then followed Fayed to the bomb, and defended it when Jack Bauer started shooting. He was shot by Jack behind a stack of wooden pallets.
The Collector (2009)
The Time Machine (2002)
Kung Pow: Enter the Fist (2002)
Children of the Corn V: Fields of Terror (1998)
Television appearances
Stranger Things (2019-present)
Cobra Kai (2018-present)
24 (2010)
The Unit (2006)
CSI: Miami (2005)
Community content is available under
CC-BY-SA
unless otherwise noted.