The Houses of Parliament were the official meeting place of the Parliament of the United Kingdom, located on the bank of the River Thames in London, England.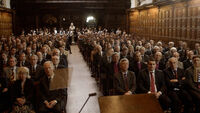 During Day 9, President James Heller chose to address members of Parliament in session in order to assuage their anger over the friendly fire incident in Afghanistan. Despite a rough start, Heller managed to shore up support for their two countries' ongoing war on terror and the U.S.'s drone program. Immediately afterward, Heller and his advisers were forced to deal with a hostage situation at the U.S. Embassy, where Jack Bauer was attempting to find proof that the earlier drone attack had been a deliberate terrorist action. ("Day 9: 1:00pm-2:00pm", "2:00pm-3:00pm")
Soon afterward, Bauer's warnings were proven accurate when Margot Al-Harazi threatened to attack government and civilian targets in London unless Heller was turned over to her, with the Houses of Parliament selected as one of her potential targets. ("Day 9: 1:00pm-2:00pm")
Background information and notes
Edit
The scenes set at the Houses of Parliament in "1:00pm-2:00pm" and "2:00pm-3:00pm" were filmed at the Royal Courts of Justice (exterior) and at Middle Temple Hall (interiors). However, the meeting hall seen in both episodes bears no resemblance to the Commons Chamber, where the House of Commons actually convenes. It may well be representing Westminster Hall, where addresses by foreign leaders to Parliament typically take place and the line about addressing Parliament 'in session' be an error by the writers.
External links
Edit
Community content is available under
CC-BY-SA
unless otherwise noted.