Jack Gill (born March 19, 1955; age 65) is an American stunt performer and actor who had two roles in Seasons 5 and 7 of 24.
Biography and career
Edit
Jack Gill is the son of an Air Force general that was stationed at the Pentagon in Washington, DC.
Gill started his career as a stunt performer in 1976. Through the years, he has worked on several films like The Rock, Pearl Harbor, Cannonball Run II, Bad Boys II, and Total Recall. Gill has also worked on several films from the Fast and Furious franchise as well as the Marvel Cinematic Universe. Aside of films, he has also worked on TV shows like Knight Rider, The Dukes of Hazzard, True Blood, and Sons of Anarchy.
Aside of his work as a stunt performer and coordinator, Gill has also worked as a producer, writer, director, and actor. He was President of Stunts Unlimited, a member of the Directors Guild of America, Screen Actors Guild and The Academy of Motion Picture Arts and Sciences.
Gill has been married to actress Morgan Brittany since 1981. The couple has two children together: Katie and Cody. They reside in Agoura, California.
Role on 24 Edit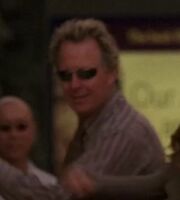 Gill had two roles on 24:
24 credits Edit
Bystander
Airport officer
Selected filmography
Edit
Venom (2018)
The Fate of the Furious (2017)
Captain America: Civil War (2016)
Furious 7 (2015)
The Lone Ranger (2013)
The Hangover Part III (2013)
Total Recall (2012)
Fast Five (2011)
Vantage Point (2008)
The Invasion (2007)
Deja Vu (2006)
Herbie Fully Loaded (2005)
Miss Congeniality 2: Armed and Fabulous (2005)
The Day After Tomorrow (2004)
Bad Boys II (2003)
Daredevil (2003)
Pearl Harbor (2001)
Miss Congeniality (2000)
Get Carter (2000)
Gone in Sixty Seconds (2000)
End of Days (1999)
The Siege (1998)
Con Air (1997)
Volcano (1997)
Dante's Peak (1997)
The Rock (1996)
Richie Rich (1994)
Nowhere to Run (1993)
In the Line of Fire (1993)
Hook (1991)
Navy SEALs (1990)
RoboCop 2 (1990)
Turner & Hooch (1989)
Crocodile Dundee II (1988)
Television appearances
True Blood (2010-2013)
Alcatraz (2012)
Angel (2003)
The Fire Next Time (1993)
Rescue 911 (1989)
Knight Rider (1983-1986)
The Fall Guy (1981)
The Dukes of Hazzard (1979-1982)
External links
Edit
Community content is available under
CC-BY-SA
unless otherwise noted.