Kenny Endoso
As engineer
Born:
July 22, 1940
Hilo, Hawaii
Died:
August 10, 2010
Burbank, California, USA
Role:
1. Engineer
2. Bystander
Kenny Endoso (July 22, 1940 – August 10, 2010; age 70) was a stunt performer and actor who had two roles in Season 1 of 24. He was a prolific stunt performer whose careers spanned many decades.
Biography and career
Edit
Kenny Endoso was born in Hilo, Hawaii. He started performing stunts in the late 60s, working on films like Project X, Che!, and The Great Bank Robbery. Through his career, he worked on numerous other films like Blazing Saddles, Die Hard (with Al Leong), Enemy of the State, and Deja Vu.
Aside from his stunt work on films, Endoso also had a career as an actor. His roles were frequently as background extra or as henchmen or villains. Endoso orked on TV shows like The A-Team, Hunter, The Fall Guy, and The Six Million Dollar Man.
Endoso passed away on August 10, 2010, after battling cancer for six years. He was married for 44 years, and had three children.
Role on 24 Edit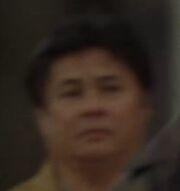 Endoso had two roles in Season 1 of 24:
24 credits Edit
Engineer
Bystander
Selected filmography
Edit
Deja Vu (2006)
Austin Powers in Goldmember (2002)
Enemy of the State (1998)
Star Trek: First Contact (1996)
Se7en (1995)
Demolition Man (1993)
Thelma & Louise (1991)
Die Hard (1988)
Big Trouble in Little China (1986)
Star Trek III: The Search for Spock (1984)
The Blues Brothers (1980)
Buck Rogers in the 25th Century (1979)
Blazing Saddles (1974)
Che! (1969)
The President's Analyst (1967)
Television appearances
Nothing Sacred (1997-1998)
War and Remembrance (1988)
The A-Team (1986)
Bring 'Em Back Alive (1983)
The Six Million Dollar Man (1974)
Kung Fu (1973)
The Wild Wild West (1968)
Run for Your Life (1967)
External links
Edit
Community content is available under
CC-BY-SA
unless otherwise noted.