Kiran Rathod was the daughter of Jai Singh Rathod.
Biography
Edit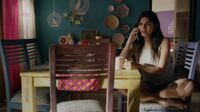 Shortly after 10am on Day 2, Kiran was at home when she got a call from her father Jai. She asked how he was getting on in rehab, and told him that her brother Veer had been posted in Mumbai so was coming home. Jai told her that Veer hated him since the death of their mother, and he needed to apologise to his son. ("10:00am-11:00am")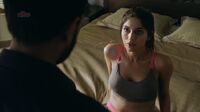 Kiran then left for the gym, and as she returned home her landlord Inder Saxena asked her to watch his daughter Milli. She agreed, and when she was there Milli accidentally broke a glass. Kiran helped her clear it up, but Milli was scared of how her father would punish her. Milli needed the bathroom and Kiran took her up to her parents' en suite. Kiran looked around the bedroom to see pictures of tied up women on the walls. Inder then appeared, asking her if she liked the room, and she made an excuse and left the room. ("11:00am-12:00pm")
Inder came downstairs and apologised, and asked her if she would help him with the interior design of his other properties. Kiran asked about his wife, relaying that Milli mentioned she had a fractured arm. Inder explained that she slipped in the kitchen. Kiran left, and bumped into Inder's wife Sara, who had a bruised face and tried to conceal her injured wrist. Kiran returned to her apartment, and Veer then arrived at her door. She embraced her brother and invited him in.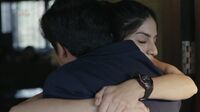 Veer told her he had to report in at 2pm, and Kiran said that when their father moved in they would be a family again. Veer said that could never happen, and mentioned how much he missed their mother. Veer said she was being naive about Jai, and showed her CCTV footage of Jai kissing a girl not much older than her. ("12:00pm-1:00pm")
As Veer left, they argued again about their father, and Kiran told him she stood up for Jai even though she was shattered by their mother's death. He apologised and they agreed to meet again that evening. Kiran tried to call her father several times but he could not speak to her. Milli then came round and told Kiran it was her birthday, and asked her to come and help them with party preparations. ("1:00pm-2:00pm")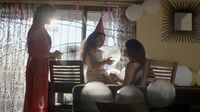 Kiran returned to the Saxena house and helped make decorations. Milli told Kiran she wanted a Superman to protect her on her birthday. Sara entered and thanked Kiran, who asked what happened to her wrist. Sara said she slipped in the bathroom, and at that moment Milli popped one of her party balloons. ("2:00pm-3:00pm")
Later Kiran questioned Sara about her story. She asked her to tell the truth, as she thought she was in trouble, however Inder then appeared at the door. He took his wife upstairs and shouted at her, telling her stop lying, while Kiran soothed Milli. They heard Inder hitting Sara, who ran downstairs and told Kiran to take Milli away. Inder came downstairs to stop them, and Sara intervened. He knocked Kiran's phone to the floor and as she ran to basement he knocked Sara unconscious, then pursued them.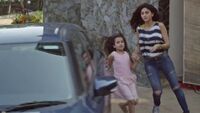 Kiran locked herself in a basement room but Inder started breaking down the door. Kiran and Milli exited through a window and ran to the car where Kiran drove them away. As they drove, Milli said she wanted her mother, and then passed out. Kiran tried to wake her, but could not, so drove to a hospital. ("3:00pm-4:00pm")
She arrived at Margaret Hospital at 4:30pm, and took Milli to reception in a wheelchair. She explained that she found her passed out and did not know her medical history, so the nurse made her fill out a form. Dr Parmer then checked Milli over and said she would be fine if she slept. Later, Kiran noticed police officers questioning the receptionists about her. ("4:00pm-5:00pm")
Kiran then called the Intelligence Bureau to try to speak to Veer, but could not get through. She then hid from the police in the hospital, and managed to find a doctor's coat in a cupboard as a disguise. The hospital was then put into lockdown and Kiran went to the children's ward. ("5:00pm-6:00pm")
She managed to enter the ward at around 6:45pm, and found Milli. She put her in a wheelchair and took her out of the room. However, as she left she was stopped by Inder and a police officer. Inder explained that she wasn't going anywhere. ("6:00pm-7:00pm")
Kiran was then questioned by police, and Inder told them that Kiran wanted a relationship with him and stalked him. Kiran pointed out how scared Milli was of her father, but could not produce any ID, so Kadam led her away to go to the police station. However, as they left the hospital Veer arrived and explained that Sara made a police statement against Inder and Kiran was telling the truth. Inder then grabbed Kiran and held a scalpel to her throat, telling everyone to step back.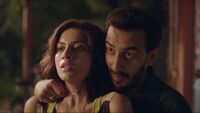 They were then surrounded by police, and Inder asked them to bring him a car before pulling Kiran into a security booth. A car was brought, and Kiran noticed Veer in the back seat, so she wrestled free of Inder while Veer shot him in the arm and he was arrested. ("7:00pm-8:00pm")
Veer told her that Sara's sister would look after Milli, and he introduced her to his fellow agent Raj Singh Bhakta. She then gave a statement to the police, and Veer then drove her away. She asked to be dropped home, but he said he didn't want her to be alone. On the way back, he explained that Jai was now the most wanted man in India for breaking the terrorist Roshan Sherchan out of jail. ("8:00pm-9:00pm")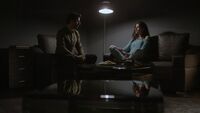 Kiran got changed at her home and Veer then drove her to the ATU. They met Gyan Thakkar, who explained that Jai was undercover with the Sherchans. Veer asked if his relationship with Maya was part of the cover, but Gyan did not answer. He told Kiran to get some rest. ("9:00pm-10:00pm")
At around 11:10pm, Veer informed Kiran that Jai's mission was a success and he was on his way back. When Jai returned, Kiran and Veer met him in the conference room and she explained to him how Veer saved his life. Jai and Veer then started arguing, and Kiran asked Veer to leave. Jai explained to her that he loved them both a lot, and told her to go and be with Veer. ("11:00pm-12:00am")
Kiran went to the bathroom at 2am and met Maya, who was washing blood off her hands. They spoke about their fathers, and Maya then realised Kiran was Jai's daughter. She asked when Kiran lost Jai as a father, as he lied to everyone. Later, Kiran noticed footage of Veer at the Hotel Gateway Residency, and Mihir explained to her that Veer had been infected with a deadly virus. Kiran and Jai made a video call to Veer, who told them he was fine, but Kiran cried out when he began to show symptoms of the virus. Jai told him to stay strong, and Veer said he loved them. ("2:00am-3:00am")
At around 5:15am, Kiran went to Siddharth Saigal's office and asked for permission to visit her brother at the hotel. However, ATU then got a call from Roshan Sherchan's men and needed someone to pose as Sherchan's daughter Vaidehi Sharma: Saigal had Kiran answer the call. She spoke to Vasu as Saigal typed out answers for her to say, and she told him that the police wanted a statement about the death of Anjali Sharma, her mother.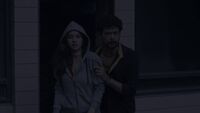 Kiran then spoke to Roshan on a video call, and told her that Vasu would pick her up at Jogger's Park. She changed into a tracksuit and Saigal gave her a phone with a tracker. She went to the park and while running, Vasu appeared and swapped her hoodie with another jogger. He led her to a car and drove away. ("5:00am-6:00am")
They arrived at the docks at 6:20am and met Roshan, who told her not to be scared. However, ATU snipers took out some of the guards and Jai appeared, grabbing Kiran at gunpoint and telling everyone not to move. However, Maddy realised Kiran was not Roshan's daughter and they started firing on the Rathods. Kiran was shot in the arm and Roshan escaped. As she was being treated for her wound, Jai asked if she was ok. He put her into a car, and she said she would go to the hotel to see Veer. ("6:00am-7:00am")
She then went to the hotel, and put on a hazmat suit. A volunteer told her to be prepared for what was inside, however as she entered the volunteer noticed her suit was split and it had previously been worn by Bhisham Bhowmick. ("7:00am-8:00am")
Background information and notes
Edit
Kiran is based on Kim Bauer from the original series.
Live appearances
Edit
Community content is available under
CC-BY-SA
unless otherwise noted.