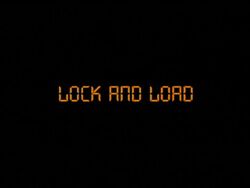 Lock and Load is a special feature found on the Season Four DVD. It details the explosive rescue and firefight by the Marines in Day 4: 12:00pm-1:00pm.
Lock and Load
Edit
OCTOBER 7, 2004: TECH SCOUT DAY: Major Michael Borgschulte a USMC Air Officer, shows his M4 Carbine, the preferred weapon of most marines, and explains that he will be playing a Marine in an upcoming episode of 24. Director Tim Iacofano discusses with him choices he wants for the episode, and requests that Dick Kyker, property master, get the same gun as brandished by Borgschulte.
Several marines introduce themselves and explain what their role will be. Iacofano talks about the similarity between filmmakers and marines: precision terms of their work. He then plans, with the marines, how the scene take place.
OCTOBER 13, 2004: THE DAY OF THE SHOOT: The crew prepares as the marines arrive in their helicopters. Iacofano gives a safety talk to the crew, and then is presented with a marine uniform to fit in with the others. Shooting begins and Iacofano directs the speed of the helicopters. Matt Taylor, the stunt coordinator for 24, introduces some stunt doubles, all of whom have been killed numerous times on the show. Troy Gilbert, one of the stuntmen, complements the show and says that he enjoys his work.
Scott Blackwell prepares some pipes for an explosion. The shoot goes as planned and Iacofano directs one more run through of the shot. This time, Stan Blackwell prepares some explosions to occur on a grassed area to look like shots from a gun on the chopper. Again the shoot goes well and Iacofano complements the good work of the marines. The marines then prepare to shoot on the ground for the rest of the scene. Stan Blackwell explains the simulation of a grenade explosion that will occur.
Some of the marines explain that opportunities like this sometimes encourage people to join the Marine Corps, which is a good effect. The crew then moves on to shoot the scene where the marines come down from the chopper on ropes. Everything once again goes as planned as Iacofano congratulates the marines on a job well done.
24 home video releases
VHS · DVD · Blu-ray Disc
Season 1
VHS
Region: 1, 2, 4
Season 2
VHS
Region: 1, 2, 4
Season 3
Region: 1, 2, 4
Season 4
Region: 1, 2, 4
Season 5
Region: 1, 2, 4
Season 6
Region: 1, 2, 4
Redemption
Region: 1, 2, 4
Season 7
Region: 1, 2, 4
BD Region: A, B
Season 8
Region: 1, 2
BD Region: A, B
Live Another Day
Region: 1
BD Region: A
Others
Community content is available under
CC-BY-SA
unless otherwise noted.