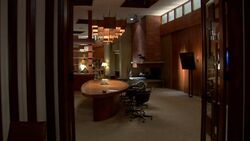 You may be looking for the in-universe article about Logan's presidential retreat.
"Logan's Retreat" is a special feature found on the Season Five DVD.
Guided by Joseph Hodges, Phil Stone and Cloudia Rebar, Logan's Retreat looks at the production of the set that Charles Logan inhabited throughout Season 5. Hodges talks about how he decided to add water to create a calm atmosphere, and the paintings on the walls were all created by his father. He also says that the wallpaper used in Martha Logan's room (the beige colored paper with a square design) was imported from England and was the last roll of its kind.
Stone says that the design was created to allow characters to hide behind things to create the air of mystery, using the example of Hal Gardner when it was suspected that he was working with terrorists.
24 home video releases
VHS · DVD · Blu-ray Disc
Season 1
VHS
Region: 1, 2, 4
Season 2
VHS
Region: 1, 2, 4
Season 3
Region: 1, 2, 4
Season 4
Region: 1, 2, 4
Season 5
Region: 1, 2, 4
Season 6
Region: 1, 2, 4
Redemption
Region: 1, 2, 4
Season 7
Region: 1, 2, 4
BD Region: A, B
Season 8
Region: 1, 2
BD Region: A, B
Live Another Day
Region: 1
BD Region: A
Others
Community content is available under
CC-BY-SA
unless otherwise noted.