"I got a call from my agent who informed me they were offering me the role but the script wasn't written yet. I was told it would be me, Kiefer and Dennis Hopper in a bunker. Sounded like a party to me so I told them I needed to make one call. I called Kiefer on set (he was unaware of the offer) and he told me to say yes immediately. Obviously, I did."
Lou Diamond Phillips (born February 17, 1962; age 59) played Mark DeSalvo during Season 1 of 24. He is of Filipino, Chinese, Spanish and Scottish-Irish origin. His surname Phillips, he adopted from his stepfather.
Philips had previously worked with Kiefer Sutherland on both Young Guns films. He also had the lead role in the TV series Wolf Lake (with Mia Kirshner).
Biography
[
]
Phillips worked as an assistant director and instructor at the University of Texas at Arlington, where he also studied Drama, between 1983 and 1986. In 1982 he met Adam Roarke, of the Film Actors Lab (Arlington, Texas), who became an important figure in his life. At the Film Actors Lab he studied Film Acting Technique and later joined the team as an instructor. He attended Flour Bluff High School, and briefly attended Del Mar College, in Corpus Christi, Texas.
Phillips' big break came with the starring role in 1987's La Bamba as doomed early rocker Ritchie Valens. The film also starred Esai Morales as Valens brother. Though the role garnered him laud from critics, he has since found it difficult to find another leading role in a big-budget Hollywood film. In 1988, he co-starred along Edward James Olmos in the inner-city high school drama, Stand and Deliver. He played the role of Angel Guzman, a wannabe cholo who is inspired by his math teacher, Jaime Escalante, to challenge himself at calculus. Along the road he creates a friendship with Escalante.
In 1988, Phillips starred on the cowboy hit film Young Guns with Kiefer Sutherland, and both returned on the 1990 sequel. Phillips and Sutherland became good friends and have appeared on several films together like Renegades, Teresa's Tattoo (also with Sean Astin and C. Thomas Howell), Hourglass (also with Howell), and Picking Up The Pieces (also with Tony Plana).
Phillips continued to work on films like Dakota (with John Hawkes), Disorganized Crime (with Dean Norris), The First Power (with Jeff Kober), Ambition (with Chris Mulkey), Boulevard (with Keram Malicki-Sanchez), Courage Under Fire (with Zeljko Ivanek, Tim Guinee, and Sean Astin), Bats (with Bob Gunton and Ned Bellamy), Hollywood Homicide (with Vincent Laresca), El Cortez (with Tracy Middendorf), Striking Range (with Glenn Morshower), the unsold TV pilot Backyards & Bullets (with Cas Anvar, John Lacy, Enuka Okuma, and Billy Burke) and The 33 (with Bob Gunton).
Although Phillips concentrated more on films during the 80s and 90s, he did appear in some shows like Dallas, Miami Vice, Tales from the Crypt, Adventures from the Book of Virtues (with Esai Morales), The Outer Limits, and Spin City. In 2001, he landed one of the lead roles on the Alex Gansa series Wolf Lake. The show also featured Mia Kirshner, Gregory Itzin, and Paul Wesley. However, the show lasted only one season and was cancelled.
After this show and his appearance on 24, Phillips dedicated more time to his television career. He appeared on shows like Resurrection Blvd. (with Marisol Nichols), The Twilight Zone, The Handler, The Triangle (with Hakeem Kae-Kazim), and Law & Order: Special Victims Unit (with Tamara Tunie). From 2005 to 2010, he had a recurring role on Numb3rs as Agent Ian Edgerton. The series also starred Navi Rawat and Peter MacNicol. On 2009, he began another recurring role on Stargate Universe which also featured Robert Carlyle, Justin Louis and Carlo Rota. During the show, he also worked with Reiko Aylesworth. From 2012 to 2014, Phillips starred in A&E's Longmire, along with Bailey Chase and Katee Sackhoff.
On 1986, Phillips appeared on his first low budget film called Trespasses. During the making of this film, he met Julie Cypher, an assistant director who would later become his wife. She would later divorce him to start a relationship with singer Melissa Etheridge, which lasted 10 years. Phillips then met Jennifer Tilly, to whom he was briefly engaged, although the two never married. He later married model Kelly Phillips. They had twin daughters. They separated in 2005 and their divorce was finalized in 2007.
Phillips also plays on the World Poker Tour in the Hollywood Home games. He plays for the Sierra Canyon H.S. & Santa Suzanna Montessori charity.
Role on 24

[

]
Phillips played the role of warden Mark DeSalvo during Season 1. On an interview, he described how he was offered the role before the script was written. However, he agreed to the part after they told him the part would feature him along Kiefer Sutherland and Dennis Hopper. Phillips, who was already friends with Sutherland, called him and he "told me to say yes immediately".
Phillips also said about Sutherland:
"[Kiefer] mentioned a project to me in passing the last time I saw him so I have hopes that we'll be back in the saddle again. He is still one of my favorite people in the biz."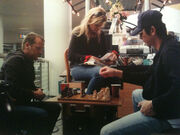 One of Phillips daughters, Grace Moorea Phillips, had a small role during Season 5, as one of the victims of the nerve gas attack on a mall. He reminisced about her role on an interview saying:
"Just as an added note, don't remember the season or the ep but Kiefer/Jack Bauer saved my daughter Grace from nerve gas in a mall not too long ago. It was her first professional gig."
During filming, Phillips and his then-wife visited the set to watch over their daughter. Phillips spent some time with Sutherland playing chess.
24 credits

[

]
External links
[
]