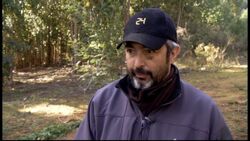 Making of 24: Redemption is a special feature found on the 24: Redemption DVD.
Making of 24: Redemption
Edit
The feature covers the background information as to why the prequel came around, and how it came to be shot in Africa. Interviews with Jon Cassar, Michael Klick, Rodney Charters and Kiefer Sutherland reveal that the rich nature of the culture in Africa made them realise that they could not fake it in Los Angeles on a stage, and so decide to shoot it all in Africa. Morten Nielsen, the South Africa Location Manager, talks about how Cassar wanted specific locations that he had to fit with. He mentions that the hardest location to find was the U.S. embassy; to find something that encompassed the safety of America as well as looking like it was in Africa was challenging. Cassar emphasises that the inclusion of a helicopter only exaggerated this difficulty.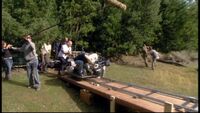 Mark Rabinowitz, the Key 2nd Assistant Director, talks about how everything is different whilst shooting in Africa as only a few crew members were able to go, therefore many had to be found whilst on the location. Nick Heckstall-Smith, the 1st Assistant Director, talks about how grateful he was to come on such a prestigious show. Jay Herron, a longtime 24 camera operator, talks about the differences in shooting in Africa and Los Angeles. Rodney Charters talks about the construction of a dolly that occurred for the scene in which Iké Dubaku's helicopter attacks Jack and the children. Jon Cassar compliments how quickly the Africa team set up the equiptment for that scene.
Jon Sharpe, another longtime 24 camera operator, talks about the differences in terms of lighting crew members with that that he was accustomed to. Cassar mentions the adverse weather conditions that had to be dealt with. The day on which the fight scene at the Okavango School is being filmed, and Cassar walks the viewer through the events. Stan and Scott Blackwell, the special effects superviors, compliment Kiefer Sutherland on his fine acting throughout the scene with the rocket launcher.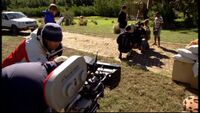 Kiefer and Cassar compliment the child actors of the episode, saying that their willingness to play all the parts make the show what it is. Siyabulela Ramba, the boy who played Willie, says that he felt a real connection with Kiefer. Robert Carlyle, who played Carl Benton talks about the connection between Jack and Benton. He expresses an idea that Jack appears to let Benton be closer to him than others, suggesting a very close friendship. Sivuyile Ngesi (Thomas) expresses gratitude for 24 moving to Africa for Redemption. Cassar talks about the less scripted nature of directing the show, and how nine times out of ten it works out for them. He finshes by saying 24 has always been on the leading edge of new trends, which is why it has been a success for seven years.
24 home video releases
VHS · DVD · Blu-ray Disc
Season 1
VHS
Region: 1, 2, 4
Season 2
VHS
Region: 1, 2, 4
Season 3
Region: 1, 2, 4
Season 4
Region: 1, 2, 4
Season 5
Region: 1, 2, 4
Season 6
Region: 1, 2, 4
Redemption
Region: 1, 2, 4
Season 7
Region: 1, 2, 4
BD Region: A, B
Season 8
Region: 1, 2
BD Region: A, B
Live Another Day
Region: 1
BD Region: A
Others
Community content is available under
CC-BY-SA
unless otherwise noted.