Mark Hauser was a security consultant for various energy companies living at 8613 Bianca Drive, Culver City, CA during the events of Day 6. He was hired by Dmitri Gredenko, a former Russian general, to hack into secret files, and tricked his brother, Brady, to do the job.
Before Day 6
Edit
Hauser attended Shawn Smith Memorial High School and was an employee at Curto Security.
When Dmitri Gredenko and Abu Fayed's nuclear attack on San Francisco failed, Gredenko called Mark and asked for some Intel. Gredenko needed the schematics and security detail of the Edgemont Nuclear Power Plant. Mark told Gredenko that it would take him at least a half hour, or even longer, to get the Intel. Gredenko told him that he was on his way and would arrive in 40 minutes.
Mark had his autistic brother Brady Hauser do Gredenko's work for him. While Brady was working on the computer, Mark's house was raided by federal agents working for CTU Los Angeles. When Mark attempted to retaliate with a shotgun, he was shot, but was in stable condition. After talking to Brady, Jack Bauer realized Mark was using his brother to make cash, and he offered a compromise.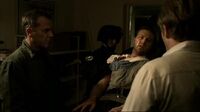 Jack told Mark that he and his brother wouldn't be prosecuted if they helped CTU capture Gredenko. Mark agreed to these terms, as long as his brother wasn't harmed in the process. When Gredenko called, Mark told him that he had to go to the office and he would have to leave the plans with Brady. Gredenko told Mark to have Brady meet him in the parking lot across the street. Mark was brought to the hospital after the phone conversation.
The sting operation turned out to be a success and Gredenko was sedated and captured. A federal agent took Brady to see Mark.
Memorable quotes
Edit
Live appearances
Edit
Season 6
Prequel

"6:00am-7:00am"

"7:00am-8:00am"

"8:00am-9:00am"

"9:00am-10:00am"

"10:00am-11:00am"

"11:00am-12:00pm"

"12:00pm-1:00pm"

"1:00pm-2:00pm"

"2:00pm-3:00pm"

"3:00pm-4:00pm"

"4:00pm-5:00pm"

"5:00pm-6:00pm"

"6:00pm-7:00pm"

"7:00pm-8:00pm"

"8:00pm-9:00pm"

"9:00pm-10:00pm"

"10:00pm-11:00pm"

"11:00pm-12:00am"

"12:00am-1:00am"

"1:00am-2:00am"

"2:00am-3:00am"

"3:00am-4:00am"

"4:00am-5:00am"

"5:00am-6:00am"

"Debrief"
Community content is available under
CC-BY-SA
unless otherwise noted.