12451 Arlington Avenue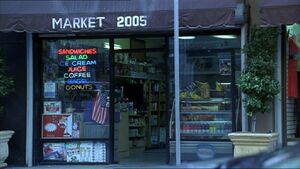 12451 Arlington Avenue was the address of a store on Washington, DC.
Day 7
When Jack Bauer interrogated Secret Service Agent Edward Vossler, he got this address as the one where he had delivered the First Gentleman Henry Taylor to Colonel Iké Dubaku.
Jack met with Renee Walker in front of the store, and then forced the cashier to open the backdoor for them. After he did, Jack knocked him out and they entered in. When Dubaku's henchmen noticed them coming in, a shootout ensued which ended with all the terrorists dead and Henry Taylor critically injured with a shot in the chest.
Appearances
Day 7
Redemption
8:00am-9:00am
9:00am-10:00am
10:00am-11:00am
11:00am-12:00pm
12:00pm-1:00pm
1:00pm-2:00pm
2:00pm-3:00pm
3:00pm-4:00pm
4:00pm-5:00pm
5:00pm-6:00pm
6:00pm-7:00pm
7:00pm-8:00pm
8:00pm-9:00pm
9:00pm-10:00pm
10:00pm-11:00pm
11:00pm-12:00am
12:00am-1:00am
1:00am-2:00am
2:00am-3:00am
3:00am-4:00am
4:00am-5:00am
5:00am-6:00am
6:00am-7:00am
7:00am-8:00am