Mehek Ahuja was an award winning news reporter and managing editor for WNCC news during Day 1.
Mehek covered Aditya Singhania's election campaign during his successful run for Prime Minister. However, she was contacted by Megha Singhania at some point before Day 1, who gave her a police report proving that Aditya killed a man at his St. Stephen's graduation dinner 12 years previously. At around 12:45am on Day 1, she called Aditya and told him she had lost faith in him after finding out he had hidden the story from the public. ("12:00am-1:00am")
Aditya made contact with her later that morning, and she met him at his hotel at 4:30am. He told her that what happened at the dinner was an accident, but she pointed out that the man he killed had two friends who vanished the same night, suggesting a cover-up. Aditya asked where she got the police report from, and she told him it was fro a source very close to him. She asked him for a statement, but he refused to give one. ("4:00am-5:00am")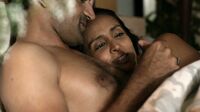 At around 6:20am, she was back at her house when Vikrant Maurya arrived. She invited him inside and they had sex. Afterwards, she asked him some questions about the Singhanias, but he refused to answer and kissed her instead. By 8:30am, she was preparing to go on air to announce her revelation about Aditya. However, just before she went on, she received a call from Aditya's mother Naina, who asked her to drop the story in exchange for an exclusive about the assassination attempt on Aditya's life. Mehek agreed. ("6:00am-7:00am", "8:00am-9:00am")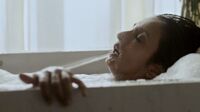 Mehek called Vikrant just after 9am, telling him she had dropped the story, and asking him for information on the assassination attempt. Vikrant refused, so she told him to come to her house or she would ruin him. She later got a call from Megha, asking why she had dropped the story. She asked if Naina had anything to do with it, but Ahuja denied it. Megha then arranged for a man to break into Ahuja's house, and drop a hairdryer into her bath, electrocuting her. The man then caused a gas explosion in her house, destroying the evidence of his crime. ("9:00am-10:00am", "10:00am-11:00am")
Background information and notes
Edit
Live appearances
Edit
Community content is available under
CC-BY-SA
unless otherwise noted.