Mexico City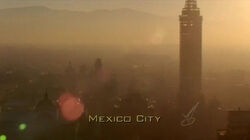 Mexico City was the capital city of Mexico.
Day 3
Mexico City was seen in a document about Marcus Alvers pulled up by Adam Kaufman in Day 3: 2:00am-3:00am.
The Rookie
The events of Day 3 of The Rookie take place in Mexico City. Alton Maxwell is hunting down drug kingpin Esteban Salazar. Whilst supposedly meeting up with a contact he is kidnapped by Esteban and rookie agent Jason Blaine helps him to escape.